by Paula D.
on
August 4, 2021 4:20 pm
in
Events
Last week my friend and I mustered up all of our courage and actually left the peninsula. As we all know, it's so hard to do during the high season. Mind you, this was a Wednesday, not a weekend (that would be absurd). Meredith and I have both been eager to go to the KUSAMA: COSMIC NATURE exhibit at the New York Botanical Gardens.
I actually saw some of Yayoi Kusama's work randomly at the Nassau County Museum when I was visiting my sister during the winter. I fell in love with the work. Why? Yayoi Kusama's art is bold, fun, and bright. I gravitate to the integration into nature.
Here's a little background on the artist from the NYBG website:
Experience Yayoi Kusama's profound connection with nature Contemporary Japanese artist Yayoi Kusama is one of the most popular artists in the world, drawing millions to experience her immersive installations. Exclusively at NYBG, Kusama reveals her lifelong fascination with the natural world, beginning with her childhood spent in the greenhouses and fields of her family's seed nursery. Her artistic concepts of obliteration, infinity, and eternity are inspired by her intimate engagement with the colors, patterns, and life cycles of plants and flowers.
We had so much fun walking around seeing the patterned sculptures intermixed with the breathtaking gardens and grounds. One of my favorite locations is the wooded forest known as Thain Family Forest. Here you'll find the Hester bridge, built in the 19th century. It's a foot and bike pass-over that spans over the Bronx River. The bridge is named after Dr. James M. Hester, President of the NY Botanical Gardens from 1980 -1989.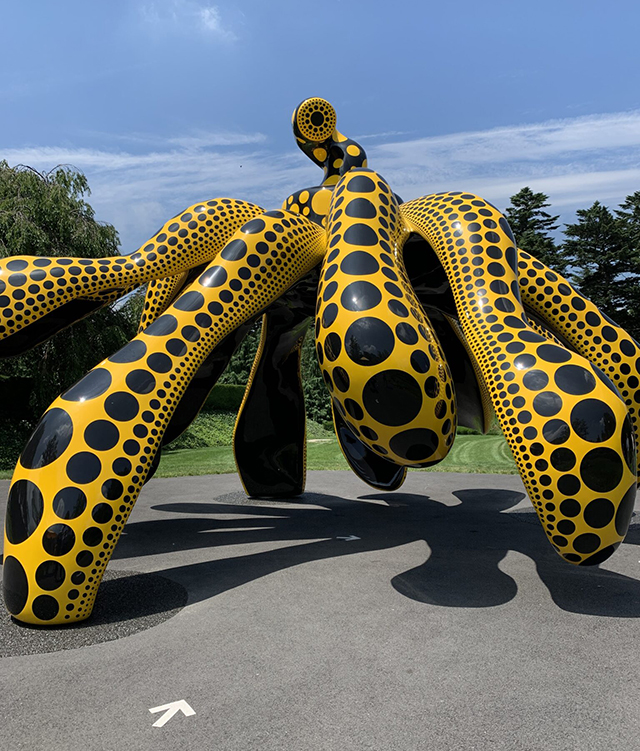 The forest area is the coolest KUSAMA installation. It's called Narcissus Garden, 1966. Large silver globes move and float on water. They reflect the tall grasses and your reflection, which is distorted, as you walk around the pond. According to the artist, the concept forces the viewer to confront one's ego and vanity.
I could have spent 8 more hours in the gardens. I'd never been there before and I can't wait to go back.
It was a no-brainer that we'd get lunch on Arthur Ave! I haven't been there for so long. My sister was an undergraduate at Fordham so we'd go up almost every Sunday to visit her, go to church and then go out to lunch.
I'm not going to lie, it felt so good to be surrounded by my people. The talking with hands on the streets;  the loud fancy cars;  the guys with gold crosses and hairy chests; the smell of fried fish and cigars; the sausage and cheese hanging in the salumerias. It felt so warm and right. It felt like home.
We walked into  Teitel Brothers (2372 Arthur Ave). Eddie, I'm assuming one of the brothers approached us right away. "Try some of my cheese ladies."  The cheese presented to us is called pre-Madonna, a combination of gouda and parmesan. So good! As he was "helping" us, I saw his mother roll her eyes behind the counter. I'm sure we weren't the first women Eddie has flirted with using his specialty cheese selection as a lure. But you know what… It worked. We bought the cheese and many other Italian delicacies. His mother's grimace changed once she opened up the register and took our cash.
Afterward, we had lunch at Enzo's (2339 Arthur Ave). Meredith and I shared plates of homemade pasta and arugula salad with fresh tomatoes. I had a nice glass of malbec. I must rest and meal in the AC after a lovely day exploring the Bronx.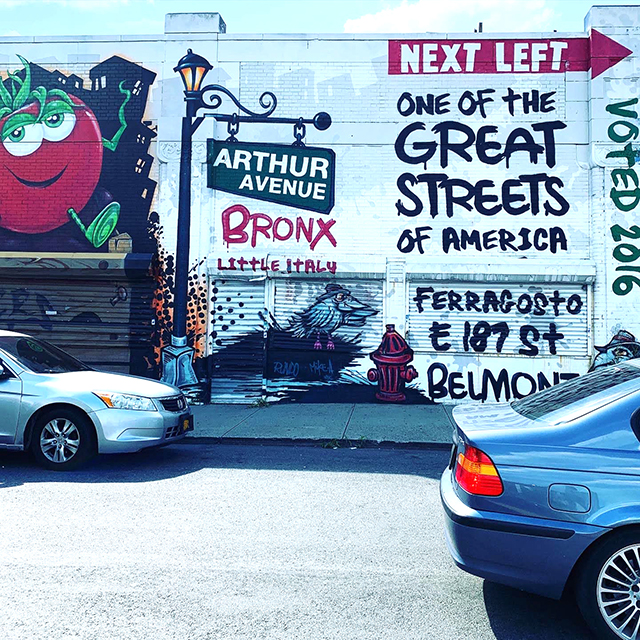 If you love bold art, gardening and Italian food check out the KUSAMA exhibit at the NYBG. It runs through October 31, 2021. On Wednesdays, the outdoor grounds are free for everyone. Then you must go to Arthur Ave. It would be a sin to miss an authentic Italian meal after a long walk in the gardens