by Paula D.
on
February 1, 2021 7:58 am
in
Recipes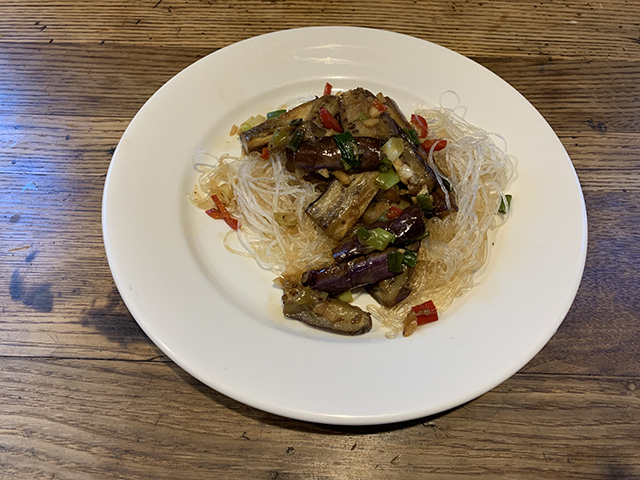 I'm in Key Food and I spot these gorgeous, bright purple Chinese eggplants. I had to buy them simply for their beauty. I had no recipe in mind but I knew I'd figure something out.  Oftentimes that's actually how I shop. I pick the best produce by sight and touch. It's a fun little challenge too – figuring out what recipe to make with my random purchases.
I unpacked the groceries and snapped a picture of the lovely eggplants for Instagram. I captioned, "What should I make with these?" Several people responded. My friend Kevin Kushner, (who is an excellent cook and grill master btw), suggested a recipe from pickledplum.com, classic and easy Chinese eggplant with garlic sauce. "It's incredible." He said.  Incredible and easy was enough to convince me.
Most of us think eggplant equals Italian food. Or at least that's what us Italians think. Eggplant is believed to originate from India and has been cultivated in southern and eastern Asia since prehistory. The first written record of the plant is found in Qimin Yaoshu, an ancient Chinese agricultural text from 544 C.E.  In the middle ages, melanzana (Italian for eggplant) was widely grown in Arabic countries and the Mediterranean.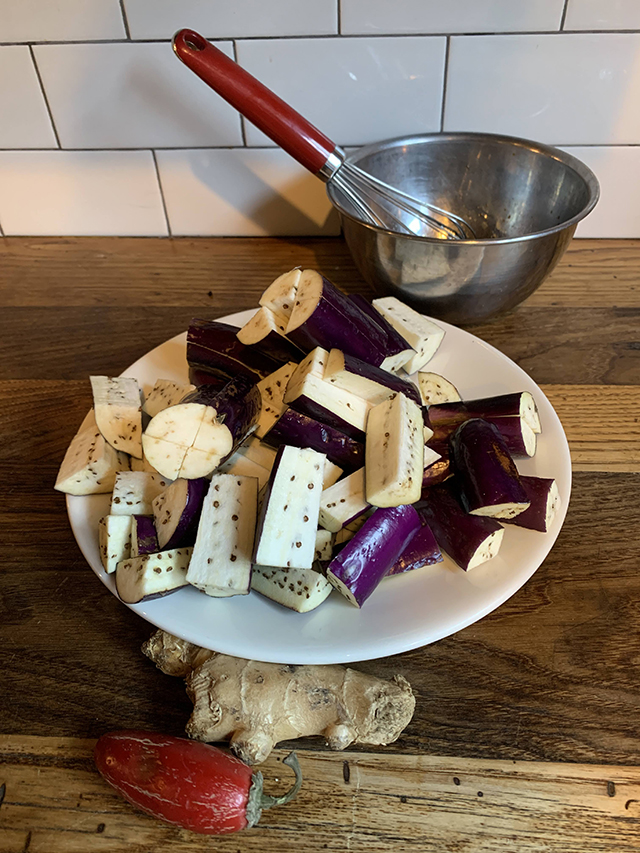 There are countless cultivars of eggplant in different sizes and shapes. Japanese eggplant and Chinese eggplant can be hard to distinguish. They have a similar elongated shape. The difference is, Chinese eggplant is bright purple, whereas Japanese eggplant is darker purple or ink colored. And sometimes Japanese eggplant is longer.
The fleshy texture of all eggplant and mild flavor makes this fruit perfect for meals with rich sauces. Other favorites made with eggplant besides eggplant parmesan are, BBQ grilled, stir fry, stuffed eggplant and smoked roasted eggplant dip or  baba ganoush.
Chinese Eggplant With Garlic Sauce
Ingredients:
2–3 long Japanese or Chinese eggplant, sliced in half lengthwise and chopped
2 tablespoons peanut oil
4 large cloves garlic, peeled and minced
1 tablespoon ginger, peeled and minced
2–3 Chinese dried red chilis, chopped
4 scallions, finely chopped on the bias
For the sauce: 
2 tablespoons soy sauce
2 teaspoons granulated sugar
1 tablespoon chinkiang vinegar
1 tablespoon shaoxing wine or dry sherry
1 teaspoon sesame oil
Note: I couldn't find chinkiang vinegar, a good substitute is rice vinegar. I also couldn't find Chinese dried red chilis so I used a half fresh chilli pepper. Double the sauce amount if you're serving with rice or another starch.
Directions:
Whisk all the ingredients for the sauce into a bowl and set aside.

In a large pan over medium high heat, add 1 tablespoon peanut oil and eggplant. Stir fry for a few minutes (about 5 minutes) until the sides are golden brown and the center is tender.

Transfer eggplant to a plate and add remaining 1 tablespoon peanut oil to the pan. Add garlic, ginger, red chilis and cook for 1 minute.

Add eggplant and scallions, toss and pour the sauce. Stir fry for 1 minute, until all the vegetables are coated.

Turn the heat off and serve with white, brown rice for low carb tofu.
This was my first time making Chinese garlic sauce so I followed the recipe closely. The main takeaway is adding the sauce at the very end to avoid soggy eggplant. And make sure your pan is hot. It was very easy to make and only took 30 minutes from start to finish.
To my excitement, it tasted like …  real Chinese food – salty,  sweet and sour, yet it felt less "heavy" than Chinese takeout. The garlic was strong and I like heat so I added a nice amount of the chili for that good ol' punch!  As an accompaniment, I bought bean threads (thin noodles)  because they looked interesting and it ended up working really well.
Give this one a try, it won't disappoint!
Reference: https://en.wikipedia.org/wiki/Eggplant