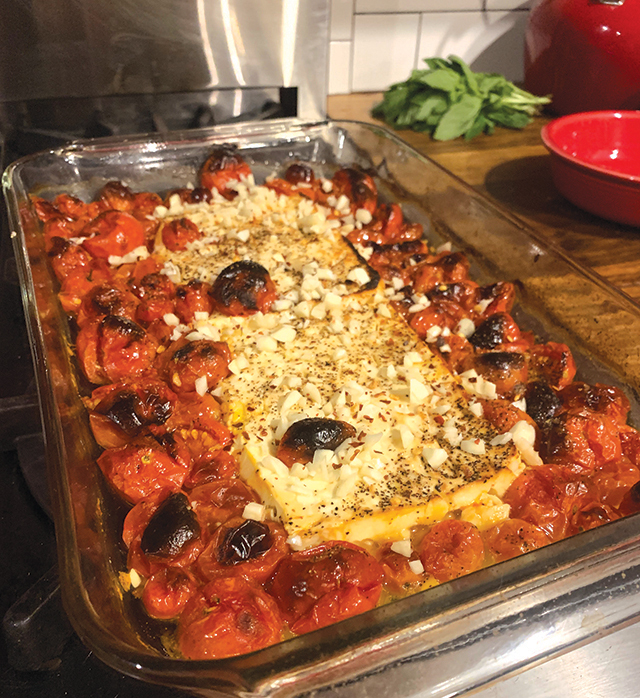 A friend of mine posted a video on his Instagram story showing sizzling cheese and roasted tomatoes hot out of the oven. It looked decadent – heart-eye emoji sent. He responded and shared the recipe with me. It's from grilledcheesesocial.com and it's called Baked Feta Pasta with Cherry Tomatoes, Garlic and Basil.
The blogger MacKenzie Smith, annoyingly beautiful and seemingly perfect, is a two-time Food Network Champ, Cookbook Author, Cheese Expert (really??), and Executive Chef in Florida. She writes that this is a quick after-work meal that is delicious. Well, I'll give her that. It's a weeknight homerun. But I would argue this is more than that – an impressive dish worthy of a dinner party main course.
I have the directions outlined below but basically, all I did was douse the baking dish with olive oil (Colavita is my fav), placed the feta in the center, and threw in a bunch of tomatoes. While that was cooking, I chopped the garlic, poured a glass of wine, placed Billy Joel's Turnstiles on the turntable, put on the water for the pasta, and sat down with the NY Times while I waited.
Once the feta started bubbling (45 min.), I took it out of the oven, added the garlic, and combined it with the pasta and fresh basil. I think the fresh basil was the key ingredient. That pop of herbal freshness with the rich, tart cheese is fantastic. So I recommend adding a generous amount of basil.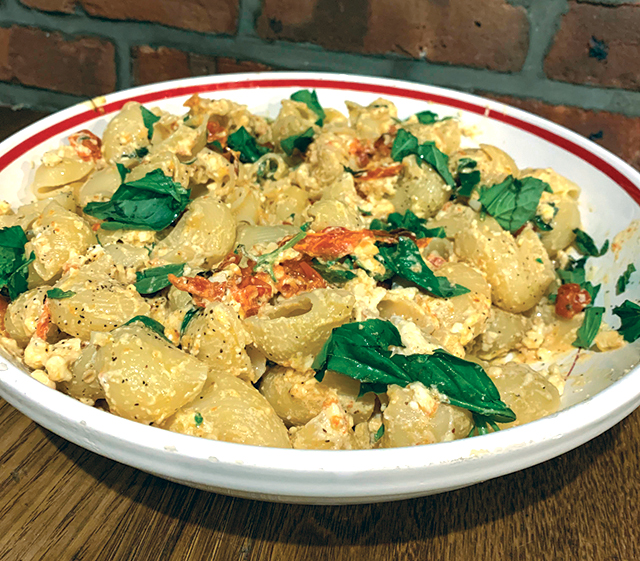 Baked Feta Pasta with Roasted Tomatoes, Garlic, and Basil
Ingredients:
1 pound bowtie pasta
2 thick slices of fresh feta (you can find this at a specialty market or at most deli counters at your supermarket)
Cherry tomatoes
4-5 cloves garlic
Basil (1 bundle, to taste)
Salt
Red Pepper Flakes
Olive Oil
Directions:
Preheat the oven to 400. Add olive oil to a baking dish and toss with whole cherry tomatoes, salt, and pepper until coated.
Add the feta in the middle and top with a splash more of olive oil plus more fresh pepper Bake for 30 minutes.
Meanwhile, boil a pot of water and make the pasta.
After the 30 minutes, crank the heat up to 450 and bake for another 5-10 minutes or until the feta and tomatoes have browned.
Remove the baking dish from the oven and add garlic and red pepper flakes. Stir so the residual heat cooks the garlic and releases the flavors from the red pepper flakes.
Toss in the pasta and stir again. Finish with fresh basil, another splash of olive oil, and season with salt and pepper.
I have a tendency to overbuy when I'm working on a special recipe or for the holidays. I ended up with way too much feta. A few days later I tried the same recipe concept again but with different veggies. Essentially whatever I had in the fridge I used – broccoli, artichoke hearts, and tomatoes. This version also turned out delicious! So you can get creative and experiment with this homerun vegetarian dish.