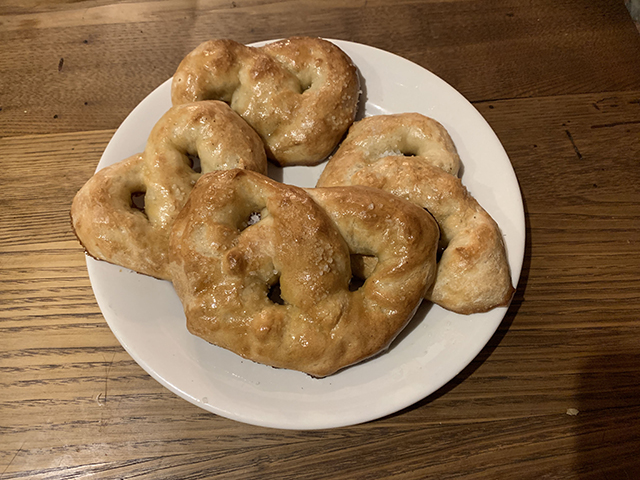 I was flipping through a magazine and came across a recipe for homemade jumbo soft pretzels. It struck a chord.
I remember as a kid going into Manhattan to see the Rockefeller Center Christmas tree with my family. My sisters and I would beg my dad to stop and get us pretzels from the corner cart. It was December and cold outside. The steam rising from the twirling pretzels inside the glass case was all I could focus on. It reminded me of the animated Christmas displays – the ones in the windows at Macy's that we'd also visit. My father would cave and buy us the pretzels, despite knowing we'd be covered in mustard for the rest of the day. Holding the warm pretzel in our hands was pure joy!
When I was a teenager, my friends and I would take the LIRR into the city to hang out at bars or just to walk around. We'd grab a pretzel almost every time. It became a ritual of sorts. Also, as teens, we were scraping together our money for the day and those pretzels were perfectly priced, filling and delicious!
And yet again, pretzels pop into my memory thinking about those long days commuting from Long Island when I first started working in the city at Morgan Stanley. My saving grace those nights were getting a mini-bottle of red wine and a pretzel from Auntie Anne's in Penn Station for the train ride home. Butter, bread, and salt is the cure for any terrible day of work.
When I finally moved out of my parents (against their wishes at 28 yrs old), I moved to Ridgewood, Queens. My home away from home was an old German watering-hole called Gottscheer Hall Before the bar became hip, a few friends of mine would hang out with the old-timers, having beers and sharing Gottscheer's super-large pretzel. It's probably 15 inches square! A hot pretzel with cheese sauce and a cold Hofbrau on tap were on the menu for me many Friday nights back then.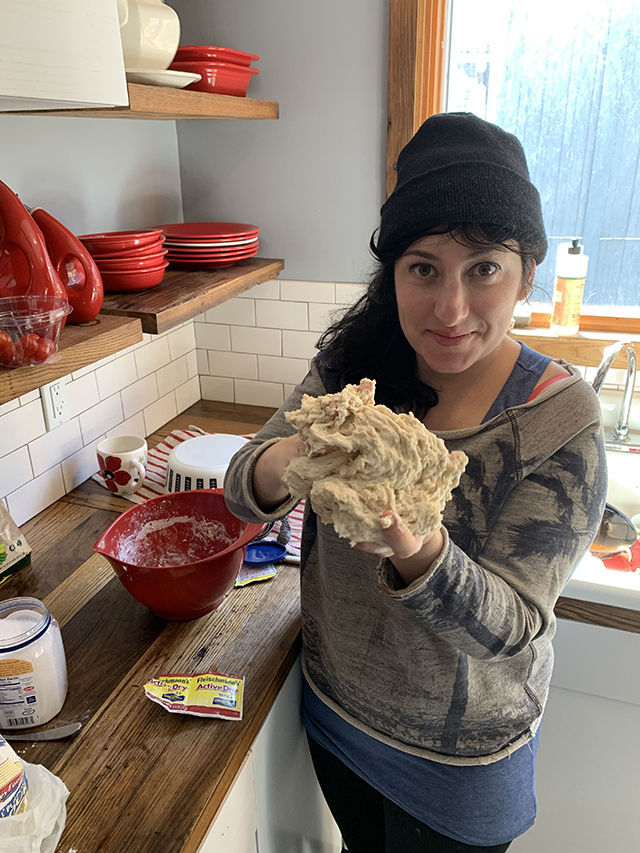 Clearly, I love soft pretzels. I had to try this recipe. This was my first attempt at making homemade pretzels. I'm not much of a baker and to be honest, this was a big project for a beginner. All the work (and cleaning) did pay off.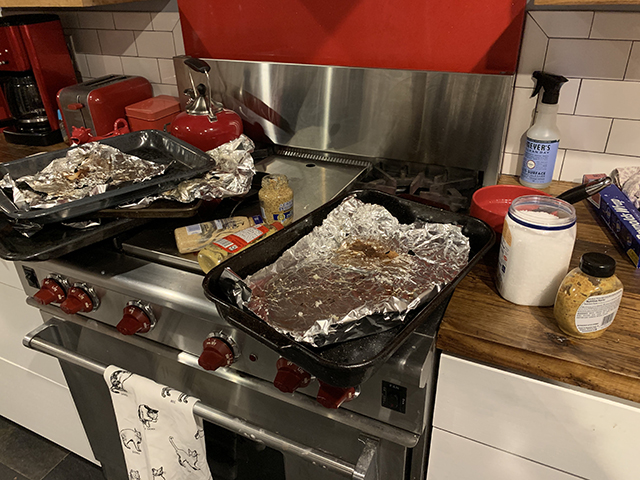 The pretzels were salty, buttery and delicious! My friend Rob was over and tried one. He said the texture was more like focaccia than a dense pretzel. Italian pretzels anyone?! I'm sure my baking mathematics played a role in this. My dough was soft and airy, not as dense as a standard pretzel. I had the idea to make it again and add cured black olives! Give the recipe a try. It's worth the effort!
P.S. I hate hard pretzels.
Soft Butter Pretzels
(Makes 10 medium sized pretzels)
Ingredients
1 1/2 cups warm water
1 1/8 teaspoons active dry yeast
2 tablespoons brown sugar
1 1/8 teaspoons salt
1 cup bread flour
3 cups all-purpose flour
2 cups warm water
2 tablespoons baking soda
4 tablespoons butter
4 Coarse salt to taste
Mustard for dipping
Directions
Sprinkle yeast on lukewarm water in a mixing bowl; stir to dissolve. Add sugar and stir to dissolve; add flour and salt. Knead dough until smooth and elastic. Let rise till doubled in size or at least 1 hour. While dough is rising, prepare a baking soda water bath with 2 cups warm water and 2 tablespoons baking soda. This process is the trick for a shiny, salty exterior and a chewy center)
After dough has risen, punch the air out of it. Divide the dough into 10 pieces, roll into a long rope. (about 1/2 inch or less thick) and shape. Shape the rope like a U and cross the two ends over each other, pull the ends down and attach them at the bottom of the U.
Carefully dip pretzel in soda solution for 20 seconds and place on greased baking sheet. Allow pretzels to rise again till doubled in size. Baking at 400°F for about 10 minutes or until golden. Brush with melted butter, add salt and enjoy!
Recipe from www.savoryonline.com