by Paula D.
on
February 7, 2020 10:06 am
in
Recipes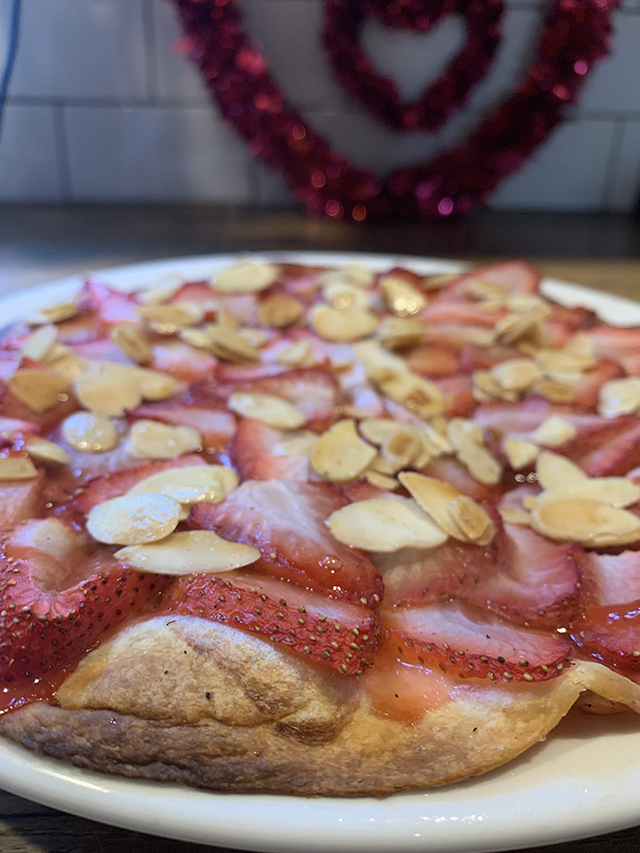 My husband thinks I'm silly for decorating the house for Valentine's Day. He tolerates Christmas and Easter but he can't help making snarky comments about this Hallmark holiday. I tell him, "But… it makes me happy!" I enjoy rearranging and switching things up in the house. Re-designing makes your living space feel fresh and It's also an incentive to clean! Or, in Matt's words "Yo this is corny." Whatever.
In addition to seasonal decorating, I also love seasonal cooking. My mother-in-law Maureen dropped off a bunch of old magazines a few weeks ago. She knows I like flipping through with my morning coffee. In the Savory, May 2019 edition, I found a whole section on strawberry recipes, which would be in season at that time. It just so happens strawberries are perfect for Valentine's Day desserts too.
The magazine had some tips worth sharing. "Pick like a pro" – look for bright, shiny strawberries, skip containers with smashed or shriveled ones. The color should be deep and even, without white or green patches and they should smell fragrant. "Wash and wait" – (This one I'm familiar with), water increases mold on strawberries (and most fruits). So leave the berries in their original packaging and rinse in cold running water just before serving or cooking. Their shelf life is short, use within 2-3 days of purchase. "Get your vitamins" – despite their sweetness, strawberries are relatively low in sugar, they provide fiber, antioxidants, and vitamin C. In fact, strawberries contain more vitamin C per serving and oranges!
The recipe that caught my eye was "Easy Strawberry Almond Tart ". I think it was the "easy" part that appealed to me. Using a flour tortilla you can make a delicious seasonally appropriate Valentine's Day tart. Mine came out great. I could smell the strawberries as they came out of the hot oven. The butter, sugar, and berries formed a glaze. Make sure you slice the strawberries thinly, mine could have been a little less chunky. Use a pizza cutter to slice it up, that worked well for me. It looks impressive and is a quick dessert to make that will impress guests or your significant other.
As I was preparing the dish, I realized you can make this with blueberries, raspberries or experiment with other fruits. Maybe honey or maple syrup can be a nice sugar substitute. Shaved milk chocolate?!
Ingredients:
(Serves 4, ready in: 30 min.)
8-16 oz. strawberries
4 tbsp butter, softened
2, 8-inch flour tortillas
2 tbsp sugar
2 tbsp slivered almonds, toasted
Directions:
Preheat oven to 400°F. Line a baking sheet with parchment paper. Hull and thinly slice the strawberries. Spread the butter onto both sides of the tortillas and place them on a baking sheet. Sprinkle the tops of tortillas with the sugar. Arrange strawberries on tortillas. Bake 20–25 min., until golden and crisp.
While the tart is cooking, lightly brown the almonds in butter on med-low, in a small frying pan on the stovetop. Occasionally stir. Remove the tart from the oven. Top with the almonds. Cut into quarters and serve. Eat hot, right out of the oven!
There are a few other noteworthy strawberry dessert recipes  in that edition of Savory. Find them here. If you try any of them, let me know how they turn out.
Happy Valentine's Day to all my readers, I love ya!