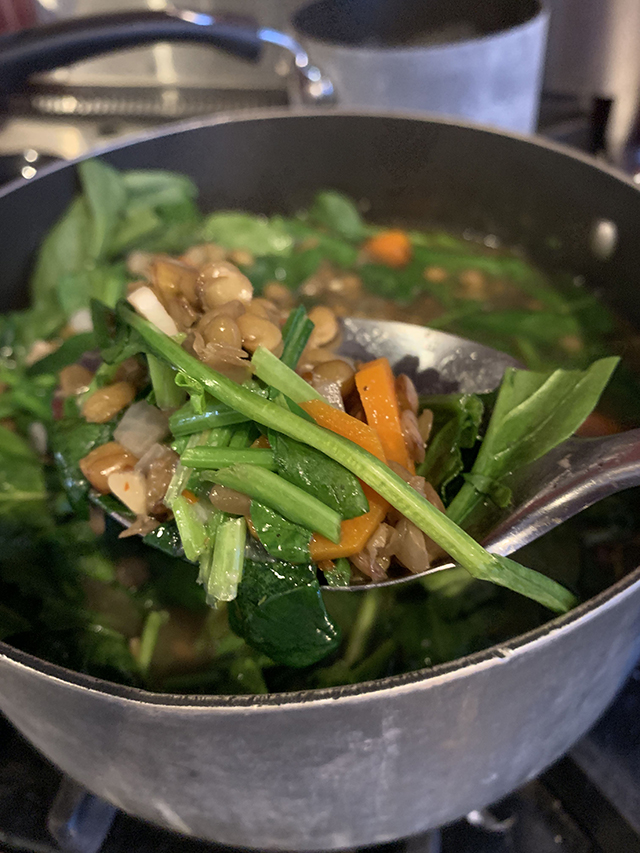 Fresh spinach adds even more nutrition to this recipe.
We are in the thick of winter now and the soup is on. I've always enjoyed a steaming bowl of lentils, even before legumes became so trendy. To some these seeds are a new superfood but lentils are crazy old!  I'm talking caveman old. The lentil plant has been around for five million years. Once domesticated, this crop became known as  "the poor man's food", because they were cheap to harvest and available worldwide. Today a 16 oz bag is only $1.42. You can't beat that price.
Additionally, lentils are packed with nutrients like plant protein, fiber, iron, calcium and they're low in fat.  More and more I'm hearing of people reducing their meat intake, whether it be for health or environmental reasons and the go-to replacement is legumes for the nutritional benefits I mentioned.
Any seed that grows in a pod is a legume. All of the following are considered as such: peas, beans, lentils, chickpeas, soy, sugar snaps,  cranberries, alfalfa, peanuts and other nuts.
Lentils come in an assortment of colors, all containing  generally the same amount of protein. Brown and green ones are better for soups or for veggie burgers. Red and yellows are often split. They cook faster and are great for puree or Indian dal. Black lentils are less common and  work well as toppers in salads.
I put an Italian twist on my lentil soup by adding a healthy amount of pecorino romano. If you omit the cheese, it becomes a vegan recipe. Either way this recipe is flavorful and hearty, packed with protein. I do have an Indian style version I make with red lentils that I'll share with you before winter's end. For now, give this easy brown lentil soup a try, it won't disappoint!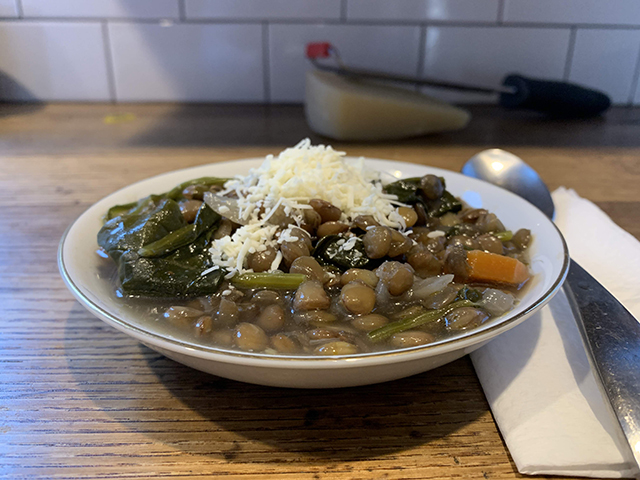 Vegetarian Lentil Soup
(6 servings)
1 – 16 oz bag of Iberia brown lentils (find these in the international aisle in the supermarket)
1  large red onion
5 cloves garlic
1 bushel of fresh spinach
3 carrots
¼ cup Colavita olive oil
¼ cup pecorino romano
Salt / pepper / red pepper flakes to taste
12 cups water
Directions: Dice onions, garlic and carrots by hand or for a smoother texture, in the food processor. Heat the oil in a large soup pot and simmer the above ingredients on low until the onions are translucent. Fill the pot with water (about 12 cups.) Put the heat to high and add in the lentils, spices and cheese. Bring to a boil and then lower the heat to medium-low. Cook for 30 minutes until the lentils are soft. Chop the spinach and add it to the soup. Cook for 5 minutes. I add the spinach last so it doesn't boil down to nothing. It will also retain more vitamins if its cook for less time. When serving, top with extra romano cheese.
For the day to day, follow  me on  Instagram – @theglorifiedtomato