As I mentioned last week, I want to elaborate on a few more edible plants I discovered at Fort Tilden while on a walking tour with naturalist, and Northern Eastern forager expert Wildman Steve Brill.*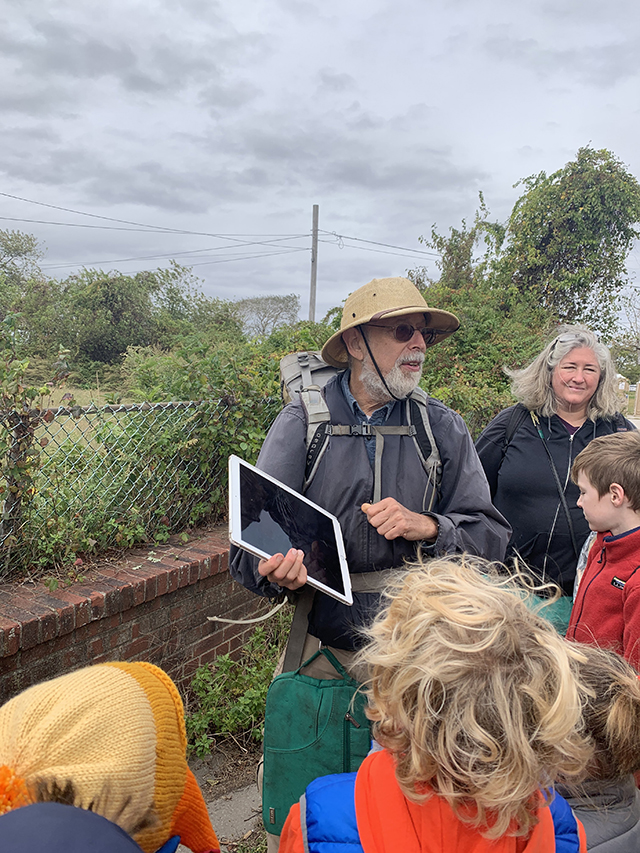 Barbarea (Wintercress or Yellow Rocket).  We stumbled upon a low growing plant in a rosette formation. Brill directed us to tear a leaf and he asked what flavor it reminds us of. I thought it tasted spicy. Someone blurted out, mustard. "Correct!" Brill said with excitement, "This native edible is an Herbaceous plant (herb or spice). It tastes bitter, it's part of the mustard family." The leaves are dark green and shiny. In the spring/summer it has a tall yellow flower, the seeds are edible too. Wintercress can be used to make a garlic, mustard dressing, salsa or can be used in soups. It's best cooked, otherwise too bitter. Wintercress is related to Watercress which you often see in the local supermarket.
Rumex crispus (Curly Dock). This is one of my favorites. It tastes like lemon and thus can be used in so many ways. It helps with liver function – boil it and drink in tea form. I couldn't believe this flavorful herb was right under my feet and I didn't know it. The perennial also grows in a rose-like formation and shoots up with a small yellow flower during the summer, turning auburn in the fall.  But it usually never gets to that stage, since it's often mowed down. An easy way to identify this plant is by the curly leaf edges. With each plant discovered, Steve showed us illustrations he drew of the edible plant at different growth stages.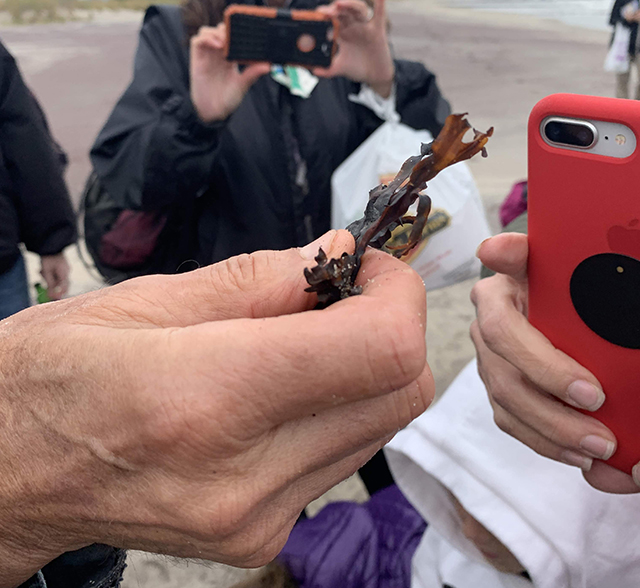 Edible Rockweed can be found right here on the peninsula!
Fucus vesiculosus (Rockweed) – probably the most exciting edible of the day. We ate seaweed! The tour finished at the ocean where we tasted Rockweed and Sea Lettuce. Both you've seen while swimming around in the water this summer. Sea lettuce is "That seaweed you always see." It's the bright and dark green, semi-translucent stuff everywhere. Rockweed, which tastes better, is harder to come by but still found around the peninsula during low tide. It prefers to grow along rocky coastlines like the north shore of Long Island. It taste like salty fish "but in a good way"! It can be dark green or purple/brown (when less hydrated). It has "bladder pods" along its thin fronds. The Wildman noted, It's excellent to use for a mock-fish dinner!" Other culinary uses include – soups, ramen, and  stir-fry. I also read this marine plant is used to smoke meat. Noteworthy, Rockweed is the original source of iodine, discovered in 1811. It was used to treat thyroid related deficiencies.
I was inspired after the tour, so I bought one of Steve's books,  "The Wildman Vegan Cookbook" Don't be thrown off by "vegan", anyone can try these recipes– why not, right? The quote on the opening page has stuck with me, "This book is dedicated to all the nonviolent environmental activists worldwide who have risked physical injury, financial loss, and their liberty to keep our planet green, vibrant and alive."
If this column has interested you, check out Wildman Steve's calendar of events here. There's still time to forage before winter is upon us!
*If  you need to backtrack, find my first column about The Wildman here.