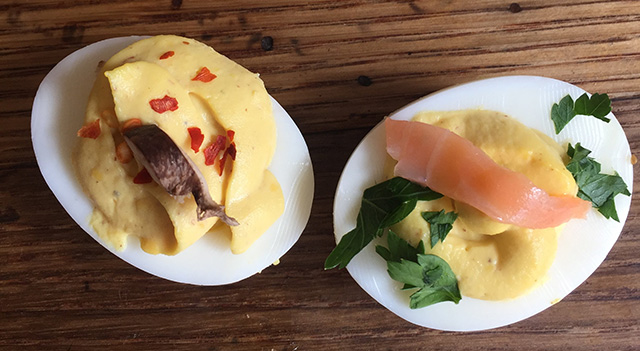 Eggs, for thousands of years and in many cultures are symbolic of birth and renewal. Deviled eggs* are commonly made as an appetizer (pickys!) on Easter Sunday for this reason. My family follows this custom every year.
My mother has always used a traditional mix of mustard, mayo and egg yolks for her deviled eggs. She garnishes with a sliced black olive and paprika "for color", as Flo always says. But there are many contemporary variations – you can use combinations of garlic, horseradish, pickles, turmeric, relish, chilis, salsa, thyme, cilantro, dill, you name it. Land-lovers can try chopped cured pepperoni, bacon bits or a thinly sliced tenderloin overlay. For mermaids and mermen, top deviled eggs with salmon, herring or a whole shrimp (talk about wow factor!). Eggs are so complimentary, I could go on and on with these suggestions.
This will be my second year hosting Easter Sunday. This go-around I want to switch things up, trying a modern spin on the traditional deviled egg. After consideration as to what my guests would like, I decided to go with mushroom, garlic deviled eggs and salmon eggs garnished with parsley.
Here are the recipes!
Ingredients for the base mixture:
6 eggs – makes 12 deviled eggs (I usually boil 1 extra in case I break an egg while peeling)
2 teaspoons Gulden's spicy brown mustard
4 tablespoons mayonnaise
Salt and pepper to taste
Ingredients for Mushroom Deviled Eggs (makes 12 deviled eggs):
Pre-sliced shiitake mushrooms. 5 pieces diced
1 clove garlic, diced
Crushed red pepper
Ingredients for the Salmon Deviled Eggs (makes 12 deviled eggs):
Smoked Nova Salmon
1-2 tablespoons finely chopped parsley
Directions: Heat the eggs on high until they're boiling (about 6 min). Turn the heat off and let the eggs sit for a few minutes on the burner. Remove from the stove and rinse with cold water several times in the pot. Let the eggs sit in the cool water until the water becomes room temperature or for longer. I find the shell comes off easily this way.
Carefully deshell the eggs. Rinse and pat dry with a paper towel. Cut the eggs in half lengthwise. Remove yolks. Place the eggs on a deviled egg dish or on a flat plate over a decorative green lettuce.
Place the yolks in a bowl and add the mustard, mayo, salt and pepper. Mix. The filling should be smooth and have a medium to thick consistency. Taste and make sure it's to your liking.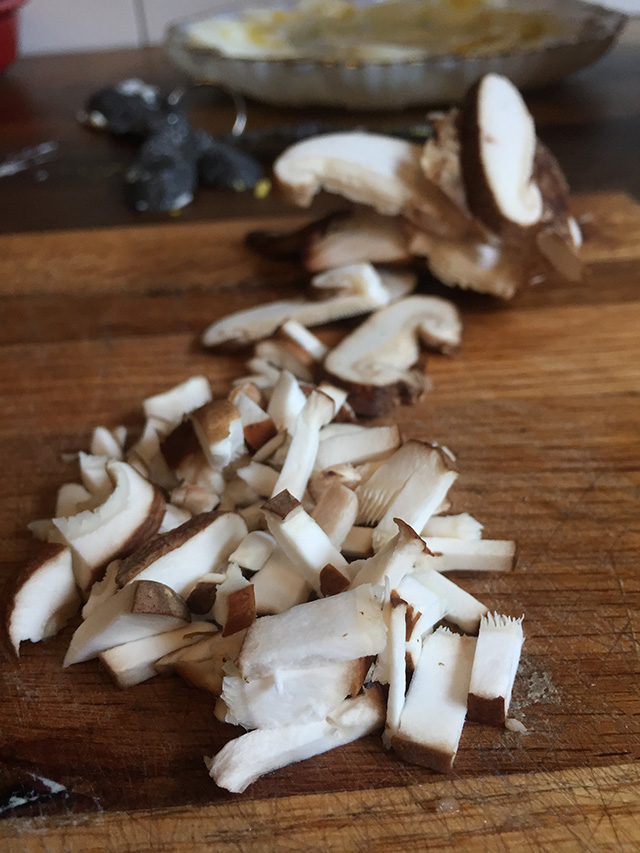 Directions for the Spicy Mushroom Deviled Eggs:
Finely chop the mushrooms and garlic
Add some of that mixture into each egg cavity
Then fill the egg with the base mixture
Sprinkle crushed red pepper over the egg
Cut the curly end of the mushroom and place on top of each egg in the filling
Directions for the Salmon Deviled Eggs:
Place a small piece of salmon in the egg cavity
Fill with base mixture
Sprinkle chopped parsley over the whole egg
Place a thinly sliced piece of salmon over the filling on each egg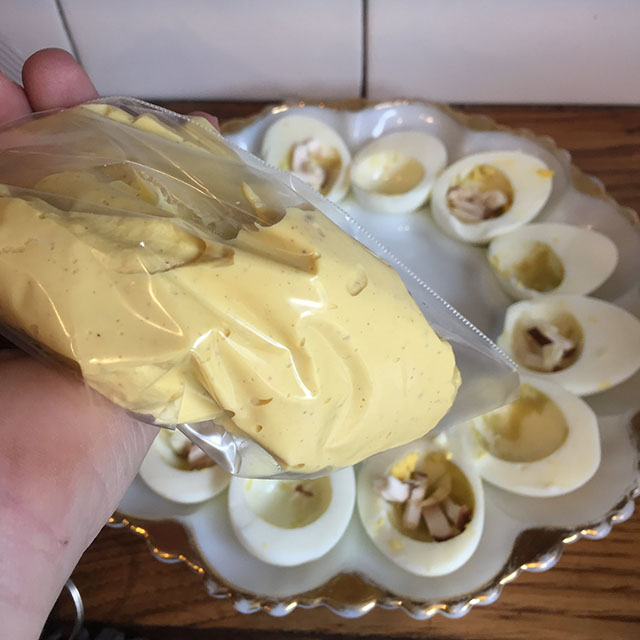 If you want to impress guests, instead of slopping the base filling in with a spoon, use a cake icing bag with a decorative tip or if you don't have that, you can get a similar effect using a kitchen ziplock bag. Cut one tip of the ziplock bag off. Spoon in the filling. Squeeze the filling out in the center of the egg working back and forth for a zig-zag look or use a circular motion for a spiral design.
I recommend filling the eggs right before company arrives for the freshest presentation or get a special deviled egg tray with a snap on lid for refrigerator storage.
*Why "deviled"? According to Wikipedia, the term "deviled" dates back to the 19th century, and refers to the use of particularly hot or piquant spices in the egg filling. The deviled egg is said to have originated in ancient Rome.