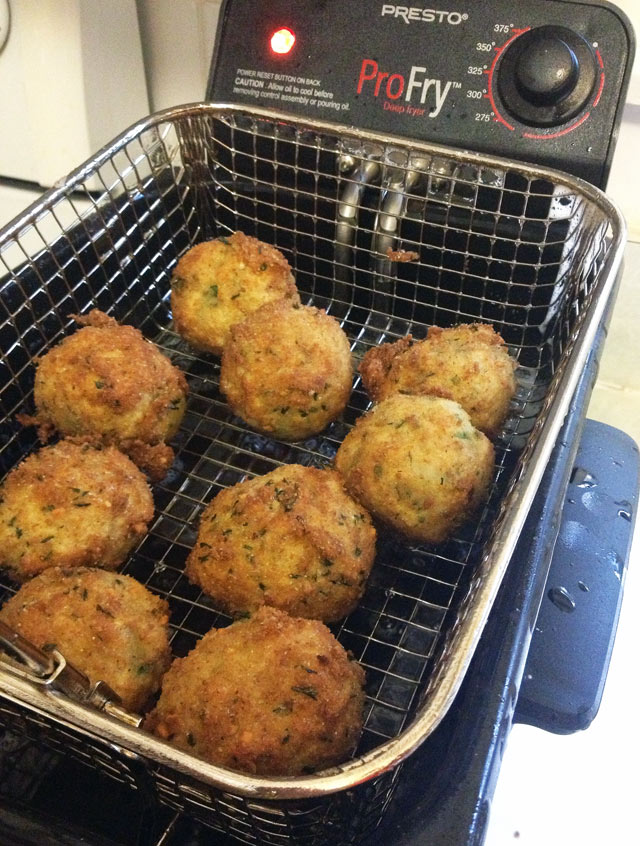 I've finally gotten around to posting our Christmas Eve Baccalà ball recipe which some of you have expressed interest in. It's a long process but tradition warrants this meal a must on Christmas Eve.
A Sicilian tradition on the Feast of the Seven Fishes:
"The most famous dish Southern Italians are known for is baccalà (salted cod fish). The custom of celebrating with a simple fish such as baccalà is attributed to the greatly impoverished regions of Southern Italy."
I was thinking though, why only make this once a year? It's essentially a finger food, perfect for an appetizer. Yes, it's a lot of work, but imagine how impressive it would be to your guests (well, the Italian guests anyway). Brainstorming here… how about making it for Super Bowl Sunday?  Get toothpicks, tartar sauce and shape the balls like footballs! Baccalà balls are deep fried, fitting right in with a customary Super Bowl menu. Here's the recipe!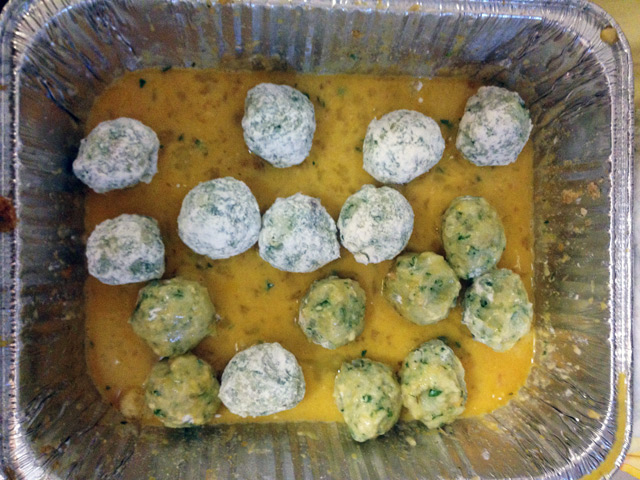 Ingredients:
3 – 4 potatoes
Salted Baccalà – 2 large pieces
1 cup diced white onion
Parsley
Bread crumbs
Flour
Vegetable oil
3-4 Eggs
Deep fryer or frying pan
Tartar sauce (optional)
Salt pepper to taste
Lemon
Directions:
1. Salt cod and let it soak for 24 hours, changing the water every 4 hours (this is the hard part)
2. Boil the cod in milk – 10 minutes, drain and cool
3. Flake the cod using a fork, face down. Pull and drag on the fish so small pieces brake off
4. Mash the potatoes
5. Dice 1 cup of white onion, coarsely chop a handful of parsley
6. Mix all ingredients together with 1 large egg, add salt/pepper
7. Make the balls (about 1 inch in size)
8. Flour, egg, bread and fry. For best results use a deep fryer at 400 degrees. Have paper towels ready to catch excess oil
9.  Serve with lemon or try it with tartar sauce.