My first experience with Indian food was when I worked at Bear Stearns for a Brit. It was never called Indian food, it was "curry". We used to order curry sometimes when we were hungover or whenever anyone had a hankering for it, which was often. Earlier this year,  I had the privilege of  spending a lot of time in London where I visited Brick Lane, which boast the best Indian cuisine in London. I have grown to love Indian food over the years and especially since I've started cooking it.
A good way to dip your toes into Indian cooking is probably with a Chicken Tikka Masa. Its not very spicy, if you're not a spicy person, I would adjust the 3 chillies to 2. Below is an adapted recipe that I got from a British co-worker which is great.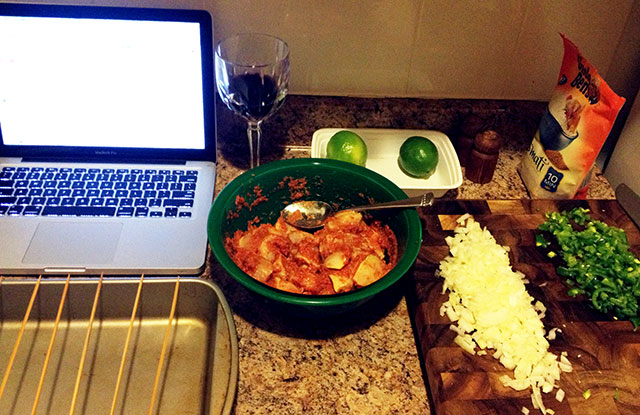 Ingredients
1/2 onion, coarsely chopped
3 tbsp tomato paste
1 tsp cumin
1 inch piece of ginger root, chopped
zest of 1 lime
Juice of 1 Lime
2 garlic cloves crushed
2 tsp chili pwder
1.5lbs boneless chicken
salt and pepper to taste
(mint to garnish)

Masala sauce
2 tbsp butter (recipe calls for ghee, but I didnt know where I could get that)
1 medium onion, chopped
3 cloves of garlic crushed
3 green chillies ( 2 if you're not a spicy person)
7 oz canned tomatoes ( I get crushed)
1/2 cup yogurt
1/2 cup cocunut
Juice of 1 lime
1/2 tsp garam masala
(1 tbsp coriander/cilantro)
(fresh mint and coriander or cilantro as you may know it, are in the sauce and the garnish, but I left those ingredients out)
Directions
Combine the onion, tomato paste, cumin, ginger, lime juice, garlic, chilli powder and salt and pepper in a food processor or blender and trasfer to a bowl. (measurements from the initial list)
Cut the chicken into 1 1/2 inch cubes and marinate for at least 2 hours, overnight if you can.
The Sauce!
Heat the butter in a large sauce pan. Add in onion and stire over a medium heat for 5 minutes. Add the onion seeds, garlic and chillies and cook until fragrant. Add the tomatoes, yogurt and coconut milk, bring to a boil and then simmer for 20 minutes.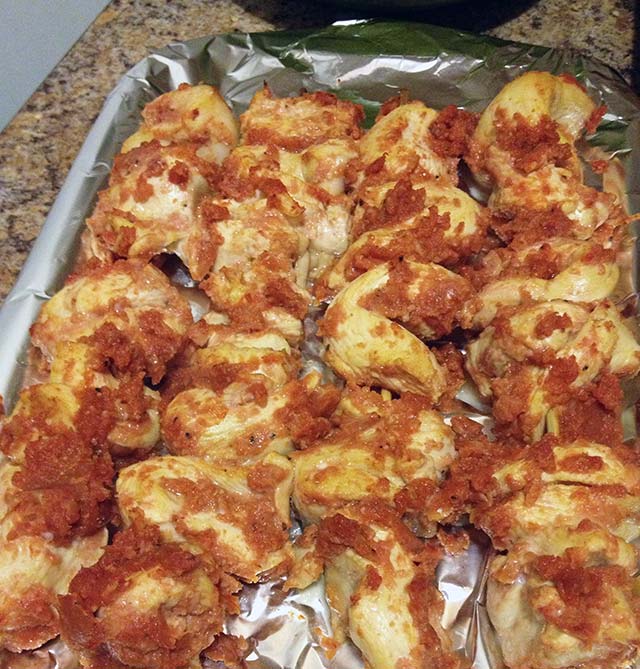 While the sauce is simmering, take the chicken and put them on skewers ( should be about 8). You can grill these or broil. 7 1/2 minutes on each side will do it.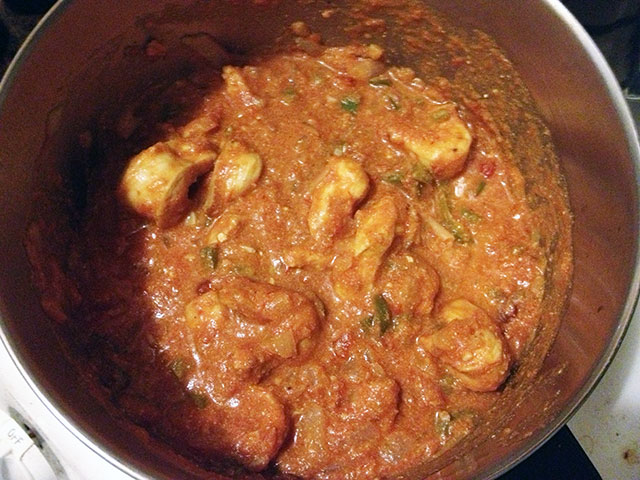 After they are grilled, add them to the sauce. Add the lime and the garam masala and serve.