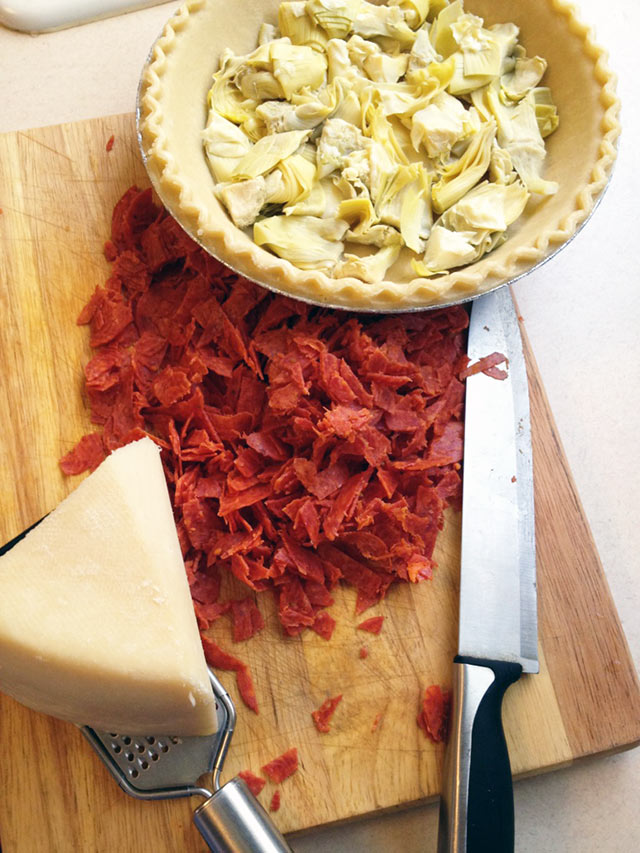 Previously published in The Wave.
Grandma Mary's Artichoke Pie is actually quiche. I don't know why we call it pie, we just do. I never thought twice about it until I asked my Grandmother about the recipe.
Grandma Mary worked at the A&P on Jamaica Ave in Belrose for 23 years. By the time she retired, Grandma was making about $20 an hour which was a lot back then. We called her money bags!  She seemed to enjoy her work – she was known as a great bag-packer. She new about the sales first and that pleased her. She would buy what was on sale for my Mother every week. Grandpa would deliver those groceries, honking the horn outside our house obnoxiously, until my sisters and I would run out to the car and retrieve all the bundles.
Grandma also made friends at the A&P. When I asked about the Artichoke pie she told me that she'd become friendly with an older women who would alway go on her line, even if it was longer than the others. After noticing the same ingredients this women would buy every few weeks, Grandma asked what she was making with it. The women happily gave my Grandmother the recipe for her quiche – our artichoke pie.
After discovering the origins of our "pie" I figured there's a good chance My Grandmother's  friend was Jewish. A stellar quiche had to be created by an old Jewish women right?  I always thought Italian and Jewish women are similar – in looks, in their overbearing love for their families and in their excellent cooking!
Artichoke pie has been a staple antipasto during our holidays for as long as I can remember –  It's a tremendous hit. Here's the recipe:
Ingredients:
Mrs. Smith's 9″ Deep Dish Pie Shell
5 large eggs
1 8 oz. can of artichoke hearts in water
1/4 cup romano cheese
1/2 cup shredded mozzarella
1/4 cup chopped pepperoni
Directions:
– Pre-heat Oven to 350
– Drain the artichokes well, I squeeze them with my hand, then flatten them into the bottom of the pie shell – covering the bottom. The pie shell comes frozen, no need to defrost.
– In a bowl, mix all other ingredients together then, pour on top of artichokes in the pie shell
– Cook uncovered for 40 min.
– Let the pie cool for 10 Min. Serve. Great hot or room temperature.
You can freeze the pies and prepare them in advance. It's perfect for dinner with a nice side salad or of course great for breakfast on the go.