by Fran Chiodo Honan
on
July 3, 2013 9:21 pm
in
Food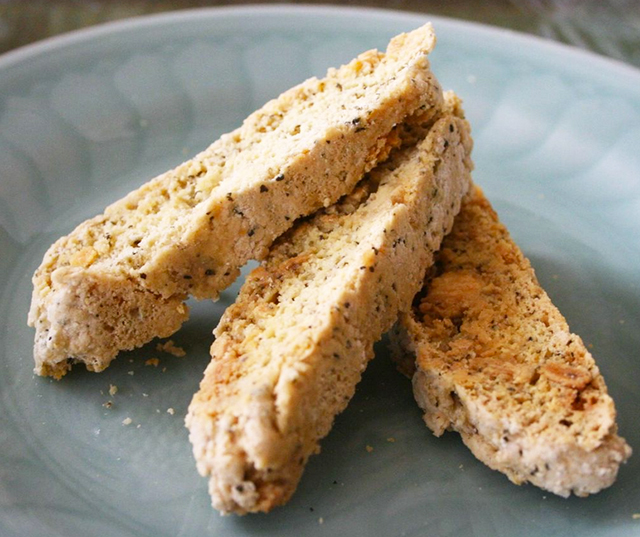 Not my biscotti — mine look better.
Our house was the go-to place for cookies and snacks. I suppose my tastes have matured or  changed somewhat and I prefer the home baked products. So now, instead of keeping cookies on the shelf, I simply bake whenever the craving hits or if I plan on visiting someone. I will offer here, one of my favorite biscotti recipes. Biscotti means "twice baked" — and that's exactly what you do.
They travel well if kept in an air-tight tin.  And they are particularly delightful just out of the oven.
LEMON ALMOND BISCOTTI
2 1/2 cups flour (mix 1 cup almond meal, 1 1/2 white flour)
2 room temperature large eggs
1/2 teaspoon salt
1 cup sugar
1  teaspoon baking powder
1 teaspoon  almond extract
zest of 2 large lemons
1/2 cup extra virgin olive oil
1 cup slivered almonds
In a bowl put the flour, salt, baking powder-  gently stir
In a stand mixer (or with hand mixer) blend eggs, sugar, almond extract and oil
Mix until blended-  add lemon zest, pulse a few times
Add the dry ingredients to the wet, blend until moist  (will be thick)
add the almonds and mix slightly
DO NOT OVERMIX
Spoon the batter on a nonstick baking sheet
make 2 long logs with even width
Sprinkle sugar on top  (fancy sparkly sugar is great)
BAKE IN 350 degree oven for about 20 minutes, When edges start to look brown take out of the oven
Wait 5-8 mins. then cut into slices and separate on the sheet so the entire biscotti can bake a second time
Bake about 6-8 more minutes.  Let cool on a rack before you put in an air-tight container. Make a pot of espresso and share with those you love.