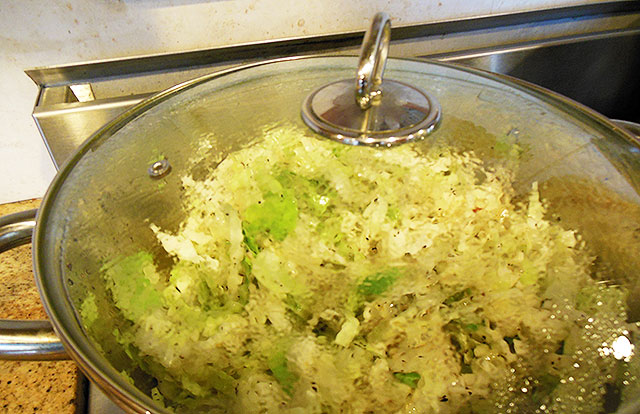 This is one of those recipes that you read and say,"It doesn't sound so good" but it is – and easy. In fact some people make this a meal by adding some wide noodles to the finished product. It's very economical for those of you saving for a house, baby, or vacation!  It also goes well with corned beef.
This recipe calls for bacon fat, how do you get it? Simple. When you cook bacon save the grease in a jar in the refrigerator.  Use it in place of oil.  I know, I know it's clogging your arteries but what a way to go! However, I might mention that my grandfather-in-law ate heavy bread dipped in bacon fat every day of his life and he lived disease free for 84 years! You either get the good genes or the bad ones…
Ingredients:
4-5 heaping tablespoons of bacon fat (what doesn't taste good with bacon?)
3 tablespoons or more of ground black pepper
Salt
Small cabbage finely shredded with knife
Bag of wide egg noodles
Directions:
– Slice up the cabbage. Melt the bacon fat in a large skillet pan with high sides (so your counter doesn't get messy.)  Spoon in the pepper and don't be skimpy!
– Toss in the cabbage, add some salt and keep mixing it until the cabbage is wilted.
– In another pot boil up some salted water and cook the noodles.  Add to the cabbage.
Enjoy!