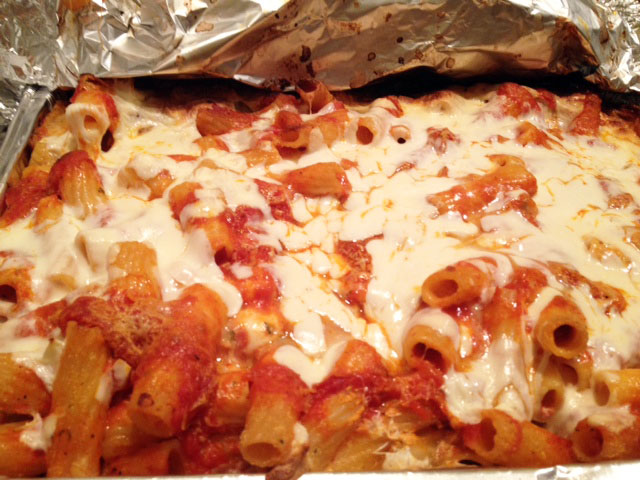 I am not a great cook. There, my dark little secret is out in the open. So what does a not so great cook due when tasked with attending a potluck super bowl party? Well, cheat of course.
I've been meaning become an expert chef for a while now, but that annoying little thing called work keeps rearing its ugly head. As the party was approaching my anxiety began to grow as my time to master the art of baked ziti was dwindling. In desperation, my mind turned to Grandpa Pete.
Several years ago I attended my very first garlic festival in Saugerties New York with Paula. There we discovered a stall that was dishing out samples of tomato sauce. Grandpa Pete's had started out as a small family operation and slowly grew their business until they had created some of the best jarred tomato sauce out there. One taste of the vodka sauce and I was hooked.
Fast forward to 2013 and the super bowl, and this is what I found on the company's recipe blog:
Ingredients:
16 ounces ziti pasta, uncooked
3 1/2 cups of Grandpa Pete's Vodka Sauce
2 cups ricotta cheese
2 cups shredded mozzarella cheese
1/4 cup chopped fresh parsley
1 eggs, slightly beaten
1 teaspoon oregano
1/2 teaspoon garlic powder
1/4 teaspoon pepper
1 tablespoon grated Parmesan cheese
cooking spray
Directions:
1. Cook ziti according to package directions; drain.
2. In large bowl, combine ziti, 1 1/2 cups Grandpa Pete's Vodka Sauce, ricotta cheese, mozzarella cheese, parsley, egg, oregano, garlic powder and pepper.
3. In a 9″ x 13″ pan (sprayed with cooking spray- for easy clean-up) pour 1/2 cup of sauce; spread ziti mixture evenly over sauce.
4. Top with remaining 1 1/2 cups sauce and spread evenly; sprinkle with parmesan cheese (I add additional mozzarella to the top as well).
5. Bake covered at 375 degrees for 30-35 minutes or until hot and bubbly.
Everything had fallen into place! I reached in my cupboard to grab the last bottle from my stockpile of sauce. I searched frantically for it. Suddenly, a memory started to come to me. Of me eating the entire jar over some gnocchi's on a carb fueled binge several weeks earlier. Grandpa Pete's sauce is extremely hard to come by, and I don't know of any stores that sell it that aren't in upstate New York.
This is where Rao's came in. This is the second best jarred sauce I have ever had for grocery store sauce it is unbelievably good although prohibitively expensive. Well heck, if you are going to cheat you might as well cheat big.
I tackled the above recipe, substituting Rao's marinara for the vodka sauce, and using shaved sheep pecorino on the top in place of regular parmesan. And the results? Surprisingly good feedback.I don't think any of my fellow partygoers were aware of my little secret
😉