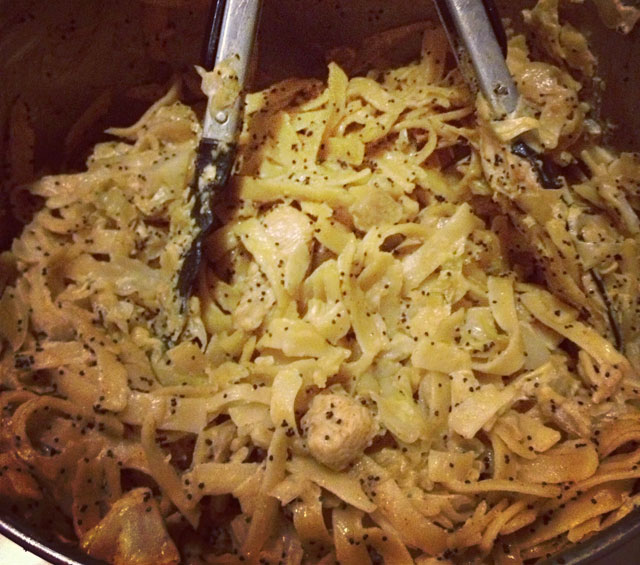 I tried out a recipe from a cookbook I received from a co-worker. I diverged a bit from the original recipe (italics are my edits)
Hungarian Noodles:
Serves from 4 to 6
1 large onion, chopped
3 tablespoons extra virgin olive oil
2 tablespoons unsalted butter
1 medium green cabbage, cored and shredded
1/2 cup chicken stock ( I put about 3/4 cup of chicken stock)
1 teaspoon brown sugar
2 1/2 teaspoons sweet paprika (I put in enough to coat the cabbage)
juice of 1/2 lemon (which is about 1 -1.5 tablespoons)
Salt to taste
1 pound wide noodles ( I used fettuccine, Grandma suggests egg noodles)
2 tablespoons poppy seeds*
2 cups non fat sour cream*
1 lb cubed chicken
*I didn't want to put these in because the sauce from the other ingredients coated the pasta well, but I tried to be a good citizen, and put them in. Next time I would leave it out.
In a large skillet, saute the onion in the oil and butter until translucent. Add the cabbage, chicken stock, sugar, paprika, lemon juice, and salt. Continue to saute until the cabbage is lightly browned. I added the chicken here once the cabbage whilted a bit.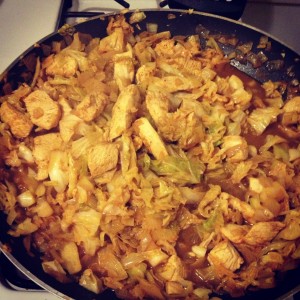 Meanwhile, cook the noodles. When the noodles and cabbage are ready, toss together with the poppy seeds and sour cream and serve.