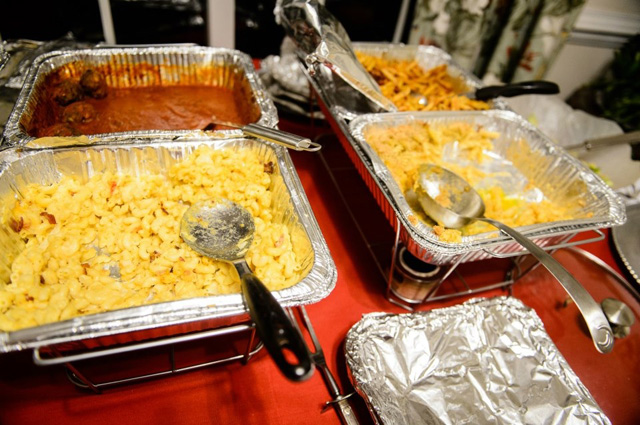 Every December I email my Aunt Maureen and ask her what I can bring to the annual Walsh Christmas party/Twins Birthday (my dad and her husband are identical twin brothers born on the 17th of Dec… what a jip but neither one complains… a lot.). The response is always the same, "Bring Nothing, Love you, AM". As usual she's always right. Between the spread of appetizers, salad, fresh bread, AM's jambalaya (simmering on the stove, the smell wafting through the entrance, teasing us upon arrival, conveniently accessorized with festive bowls & spoons) the assortment and sheer quantity of entrees, organized in a perfect U-shape Chaffer dish presentation, are delicious trays ranging from sausage and peppers to meatballs to chicken to lasagna and beyond. There is enough to send 20 people home with leftovers. That's not even factoring in, a wide variety of yummy desserts… cookies, chocolate, the Twins birthday cake and of course my personal favorite AM cheesecake.
This year, even after the devastation of Hurricane Sandy, Aunt Maureen sent her usual mass email that despite her gutted to the studs basement and recuperating town of Rockaway Beach, Walsh Christmas will still commence at her home, as always. The only change? Everyone bring a dish this year. I thought this was a great idea! Us Walshes don't get together often and a sampling of everyone's best, felt appropriate and exciting, after all we are adults with families now! In the same email she indicated that those that are "oven challenged" (Ett emm, present company included) may take pictures in lieu of cooking. Clearly she was talking to me as I cannot boil water, actually, I'm more of a toaster oven kinda gal. But, I can take a mean picture!
At first I thought "Yay! I'm off the hook!" And then I pondered about it…I decided if my Aunt "The Glue of the Family" Maureen Walsh insisted on keeping the tradition of hosting "The Walsh Christmas Party" after a bitch named Sandy tried to destroy her spirit, I could at the very least , sign up for a mac & cheese. I, too, could accept this minuscule challenge by comparison. Simple right? Cheese, pasta, cream…whats the big deal? My son goes crazy over the organic Annie's box stuff…I could make that, no one will know the difference. Except…oh yeah… most of the Walsh crew are NYC foodies and I'd be completely called out. No, I couldn't do that to AM or embarrass my husband & son. I'd have to do this right. So I did what any normal non-cook does…I googled a kick-ass recipe!
Did I mention that at the same time I signed up for M&C, my beautiful sister-in-law Tara also did. My immediate reaction was to drop my bid and bring a Stouffer's Lasagna. Through the wonder of miscommunicated emails, it was decided that there should be a MAC-OFF. My competitiveness got the best of me and I accepted the invitation for said challenge. As if I needed more pressure! Needless to say I was overwhelmed with the possibilities and sought the advice of my best friend/mac & cheese extraordinaire, Jess. She forwarded me a recipe with specific instructions a mile long and I got a lil skirrrred to say the least. I ended up deciding to combine a few ideas and tricks with the help of my Mormor (Mother's mother in Swedish) who coincidentally shielded my son from the curses spewing from my kitchen that night and also cooked the breadcrumbs for this M&C mishmash. Does that count as my own recipe? You decide. Here is what I did to make a half tray:
Ingredients:
2 lbs of Macaroni
blocks of sharp cheddar
1 half pint of heavy cream
Salt & pepper as desired
1 block of Fresh Mozzarella, shredded
(3) cups of Italian Seasoned Breadcrumbs
Cheese Sauce:
Take the blocks of cheddar and a half pint of heavy cream and melt (microwave) in a bowl. Add salt and pepper as desired.
Breadcrumbs as per Mormor:
Put the breadcrumbs in a sauté pan at low heat, add butter, salt and pepper as desired for a few minutes.
Boil Pasta till tender
Drain and run cold water on top immediately
Take a butter stick and smear the inside of the tray
Layer 1 of Pasta
Layer 2 of Cheese Sauce
Layer 3 of Shredded Mozzarella
Repeat until Tray is full, leaving room for Breadcrumbs on top
Bake for 45 minutes at 350 or until the top is golden and the cheese is melted…
As appetizer time diminished and Aunt Maureen organized the dinner entrees with my and Tara's dish sharing a chaffing dish neck and neck, I looked at the two. She had added bacon and I thought I was doomed! Why didn't I think of that!!! I could barely stand it. My family cautiously took a sampling of each. I was too nervous to find out the results and sequestered my favorite nephew Ryan Walsh to do some reconnaissance to figure out the winner. The vote was 7-11 in my favor (please exclude children too young to vote and Aunts/Uncles that refuse to take a side). My jaw dropped as did most during the announcement that I WON. I slowly came to the realization that I may not be as crappy a cook as once thought. Don't tell my husband.