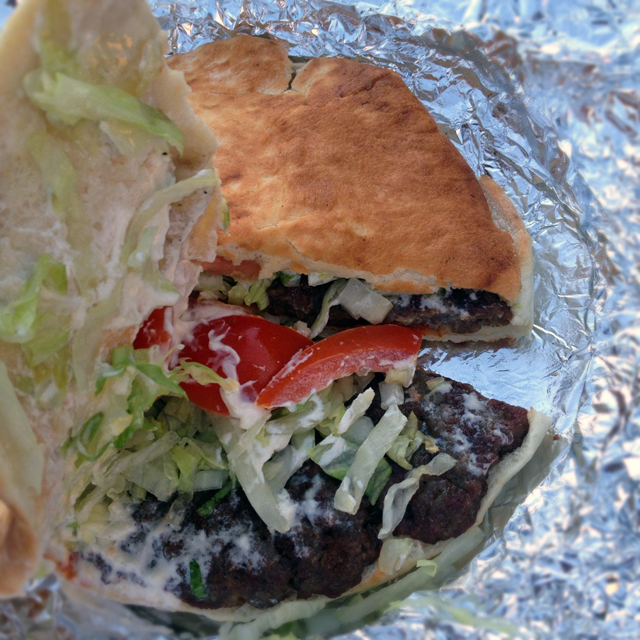 I've been meaning to try Bosna Express for some time now, specifically the Bosnian Burger (Pljekavica: PLYESS-ka-vee-tsa). It's in my neighborhood and received a bunch of press in the past few years – I felt compelled.
I walked over not really knowing what to expect. It's small, with a take-out window and seating inside for about four people comfortably.
I placed my order with the smiling women behind the counter. I sat down and watched. The grill was steaming hot so it only took about 5-10 minutes for her to cook and assemble my large lamb-beef burger. It's dressed with shredded lettuce, onions, tomato, a generous amount of yogurt sauce and ajvar (mashed eggplant and sweet peppers). All of this sandwiched between two warm, toasty pitas. The circumference is 6 inches and the thickness is approximately 1 inch.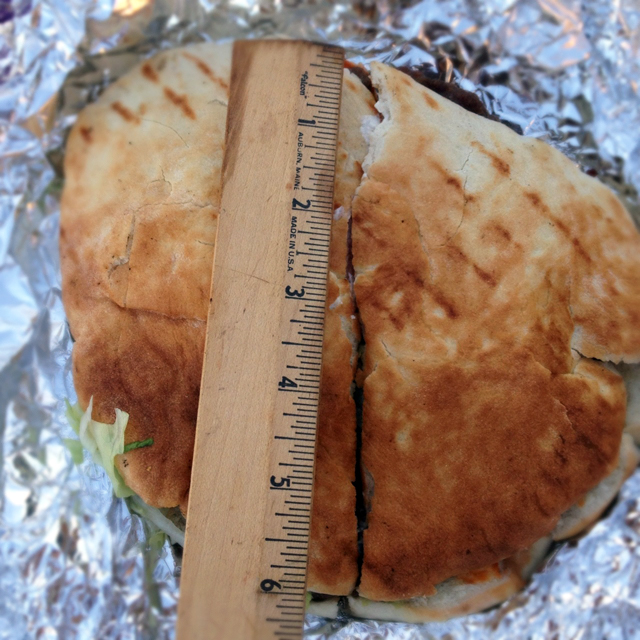 I was ready to dig in. The burger needs to be cut in half to handle – fours is over-kill unless you're splitting it just to taste. The lamb, as I expected made for a tender texture. I was surprised the lamb-beef wasn't spiced since Bosnian cuisine uses many spices  similar to Turkish and Greek foods. I would have preferred the meat much spicier – it was bland for a mediterranean meat.  Having said that, overall the burger was fresh, huge and good-tasting.  I ate the whole thing, but you could easily split it if your not a big eater.
As I'm writing this I'm having a hard time with the classification "burger".  The Bosnian Burger is more a burger/gyro sandwich hybrid than a traditional burger. It's like comparing a regular slice of pizza to a specialty slice – you just can't.  In defense, the menu labels as such: "Pljekavica – Bosnia Style Burger"  then "(Sandwich)" but it's generally known as a burger on the blogs.
I'm looking forward to trying a few more items from their menu, the beef-lamb kebabs (Cevapi) and the roasted red peppers in homemade dressing. Speaking of the menu, I prefer restaurants/take-outs with limited menu options like Bosna Express. Cook only what you're good at – it makes sense. And the customer isn't overwhelmed with mediocre choices. To note: the pricing on allmenus.com is incorrect. The burger is 9 bucks. The updated menu is below. Edible Queens mentions 12 years ago it was only $5.50 – ugh inflation.
As of now Bosna Express doesn't have a delivery option but if you eat the whole burger it's best you walk or bike over anyway. Most definitely worth checking out.  [rating: 3]
BOSNA EXPRESS
791 Fairview Ave – Ridgewood, NY 11385
Fast-food establishment known as a "cevabdzinica" in the Balkans—a place that specializes in grilled-meat snacks. – villagevoice.com