by Paula D.
on
October 11, 2012 8:54 pm
in
Ridgewood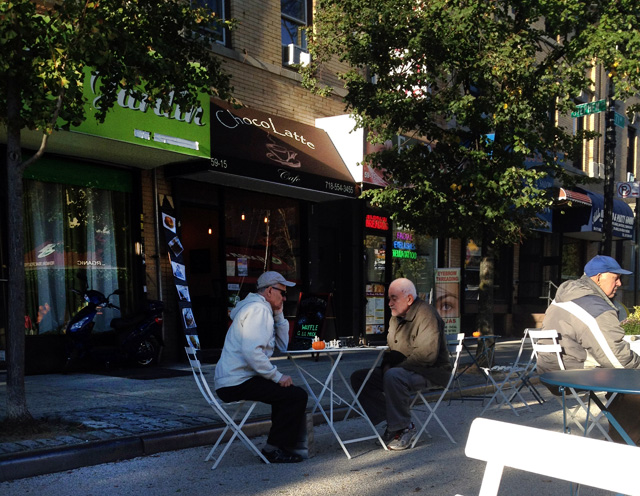 I wrote to Mr. Renz, Executive Director of the Ridgewood Development Corporation. I had a few questions about the temporary 71st Ave Plaza. Here's his response…
When is the temporary plaza expected to be completed?
The temporary plaza is almost completed. We expect the moveable tables and chairs (12 tables and 24 chairs) to arrive today (10/11) in late afternoon. 3 large umbrellas will be delivered later this month. Weather will determine whether we use them now or place them in storage for the winter.
What can the community do to help support this project so that the permanent plaza is approved?
The Myrtle Avenue Business Improvement District submitted a proposal in June 2011 for consideration to build a permanent plaza under New York City's Plaza Program component and the NYC Department of Transportation.
This site is funded to create a permanent plaza. The temporary plaza is transitional while we begin to plan for the permanent one. There will be workshops and focus groups to engage the community at large. We welcome your input and interest.
Where are the boulders from, the ones that border the space?
The boulders are from the OCD Wills Avenue Bridge over the Harlem River which connects upper Manhattan with the Bronx.
It's pretty awesome that the boulders are recycled and local to New York!
Are there volunteer opportunities for this project or other Myrtle Ave. improvement initiatives?
Regarding volunteer opportunities please call me or we can meet at the plaza to discuss.
Thank you for your concern and interest in this project.
Mr. Theodore Renz
Executive Director
Ridgewood Development Corporation