When it comes to cooking, there are many words to describe the food I make. Low-fat may not be the first to come to mind.
But recent health issues for members of my family have forced me to reevaluate how I prepare meals.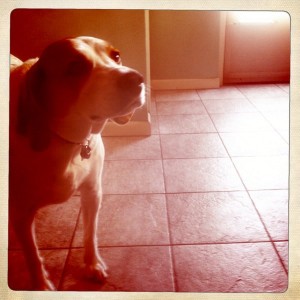 Our dog, Stella, was very lucky when she came to live in our home.  She spent the first 71/2 years of her life here living well – and I do mean well. As a young pup, we would purchase lamb shanks just so I could make her a stew that she shared with my husband Mike.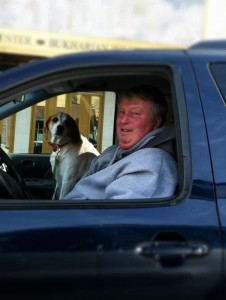 Stella ate bar-b-que steaks, burgers, chicken cutlets, roast beef, cheddar cheese and bagels with cream cheese or butter. We fed her from the table – food is love, even for the four-legged family members in your life.
All this food came with the required "dog" food, which meant Stella's weight always fluctuated somewhere near "pleasantly plump" (like the rest of us.)
But at 90 pounds, she was starting to show her age with aches and stiff joints. And last winter the good life Stella had known would come to an end.
We noticed symptoms of diabetes and we had the vet check it out. Her excessive thirst and "accidents" were a clear indication of diabetes and the tests confirmed this. Faced with this new challenge, we were first upset, but set out to learn how to adapt our lives to save Stella.
After a quick lesson in insulin injections, we knew the diet had to change. First, we found a dry dog food with no grains. Then, I decided we could best control the proteins for Stella if I just cooked for her.  So, in my kitchen, several times a week  I prepare her chicken. One 12 hour insulin schedule she was only allowed 2 meals a day. This was hard at first.  It took weeks to get the right units of insulin.
But, she is ours and we were  committed to taking the best care of her. One side affect of her lifestyle changes resulted in Mike and I cutting back on the carbs as well. We became very conscious of watching that we ate less carbs, more vegetables and lean meats. I have lost a few pounds, but Mike and Stella are the real winners in this battle of healthy eating.  Stella now weighs a trim 76 pounds and Mike has dropped over 35 pounds. That is a positive side- affect of the need to adjust our life-style to keep Stella with us.  I now look at labels for carbs, sugars and calories. We still indulge in occasional treats, but we are staying on the right track and we all are happier for it.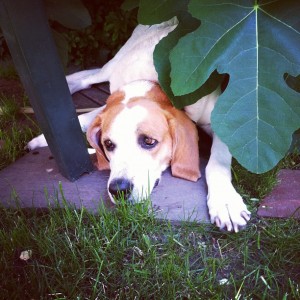 And Stella, who was rescued from an abandoned lot somewhere in Manhattan and brought into our homes via the North Shore Animal League, undoubtedly has the most devoted owners in the borough.
STELLA'S LOW-CARB,
HIGH-PROTEIN CHICKEN
1 package of boneless chicken breasts
20 oz. box of chicken broth  (low sodium)
-bring to a boil in a large pot, cook until no pink is visible on meat
-cool after and refrigerate
-cut up about 1/2 of the breasts for each meal
-place over dry gourmet, no-carb dog food