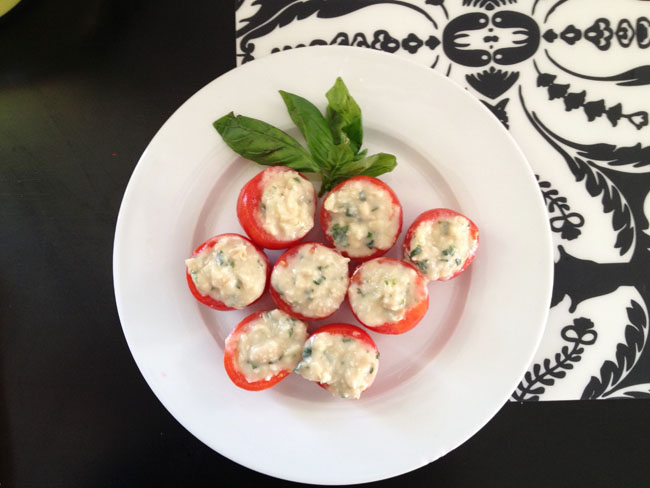 My friend Susanne made hummus and I got jealous (I'm Sicilian). So last week I decided it was time to give it a go! As I've mentioned in other posts, it's hard for me to follow recipes precisely. I used this Tangy Bean Dip Recipe from CountryLiving.com as a starting point. My variation came out pretty damn good – that's why I decided to share it. Hummus is an excellent source of protein (yay beans); it's quick to prepare and great for all herbivore people and mangiafagiolis. I used the hummus to stuff tomatoes. Why tomatoes… because I love tomatoes more than any other fruit/veggie on this planet – and this is the Glorified Tomato after all.  Plus, it looks adorable! The original recipe suggests serving on pita triangles – that would be tasty I imagine. Also to note, the recipe calls for puree. My food processor broke a while back so I mashed mine together. The chunky texture worked nicely in the tomato.
"In Tuscany, white beans are more than just 'the poor man's meat'; they're a whole way of life".  Great Article at saveur.com to read.
Enjoy! (Recipe Below)
Paola's Italian Tangy Hummus
INGREDIENTS:
2 cups cannellini beans
4 cloves garlic (I doubled from the original recipe)
1/4 cup fresh lemon juice
1/4 cup extra-virgin olive oil
1/2-1 oz. fresh chopped basil
Salt to taste
Romano cheese to taste
Cherry tomatoes and/or pita bread
DIRECTIONS:
Puree all ingredients together in a food processor or combine all ingredients in a medium size bowl and mash  until desired consistency.
Let mixture stand  for at least 1 hour. It with thicken.
Serve inside tomatoes or on pita triangles.
Serving in tomatoes: Cut the top 1/4 portion of the tomato off. Gently scoop the inside of the tomato with a knife and spoon. Don't clean out completely. Fill the tomato with your mixture. Eat.