Let me start by saying I'm not a baker, but in the spirit of the festival of the Epiphany, I felt compelled to make the king cake – for two reasons. One, I love Christmas and the Epiphany marks the end of the season, celebrating the visitation of the Magi to Baby Jesus.  Two, the king cake is a New Orleans specialty and I adore everything about Nola, especially the food. The king cake is traditionally baked at this time of year in Louisiana, marking the Epiphany and the start of the carnival season.
More impressive than the doughy cake filled with cream cheese, cinnamon, pecans, white glaze and topped with carnival colors is (appropriately enough), the small plastic baby Jesus hidden inside the cake!  Whoever receives the piece with baby Jesus inside has special privilege and is obligated to host next year's Epiphany celebration.
The various traditions and history surrounding the king cake is fascinating and worth reading about.
Here's a pictorial of my first king cake. The recipe is below!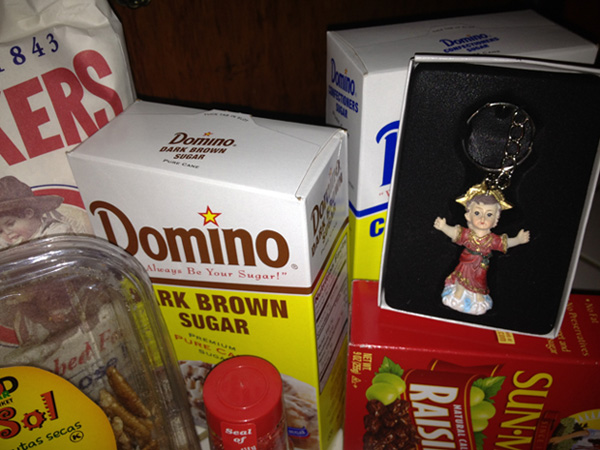 The ingredients – pretty straight forward except the Baby Jesus. I found mine at a dollar store on Myrtle Ave.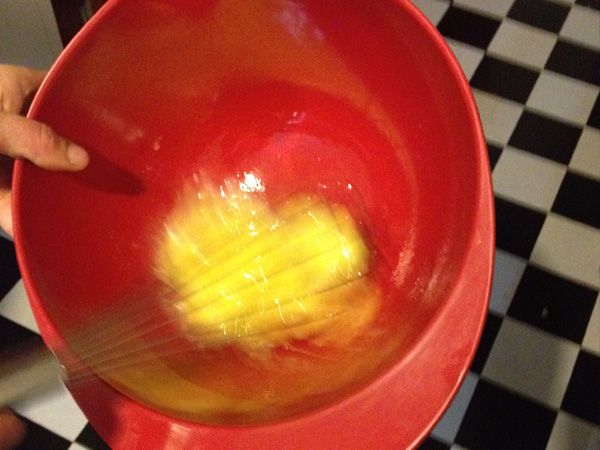 I nervously followed the instructions, exactly. Having never made dough before I was a bit freaked out. And the whole chemical reaction thing with the yeast is mind boggling!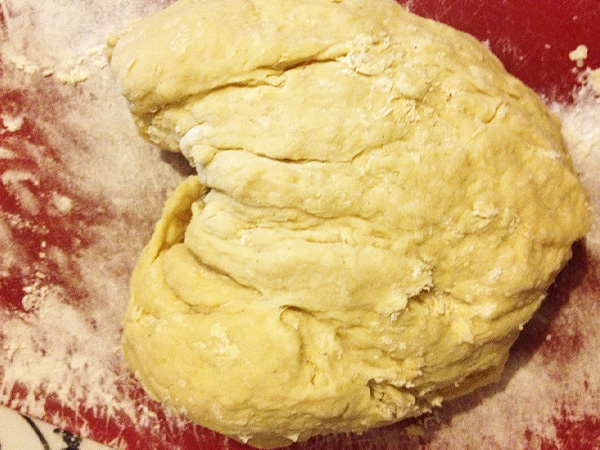 I made my husband knead the dough because it was hard to do and he said yes. This is supposed to be a heart, it's sideways.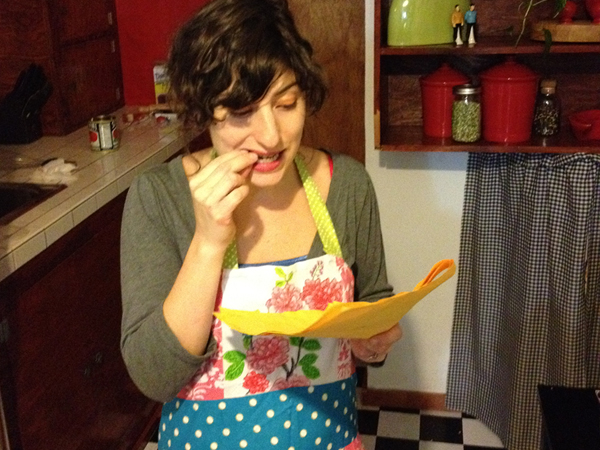 Me eating pecans and reading the recipe wearing a cute apron that I received at my Cousin Tara's white elephant party last year.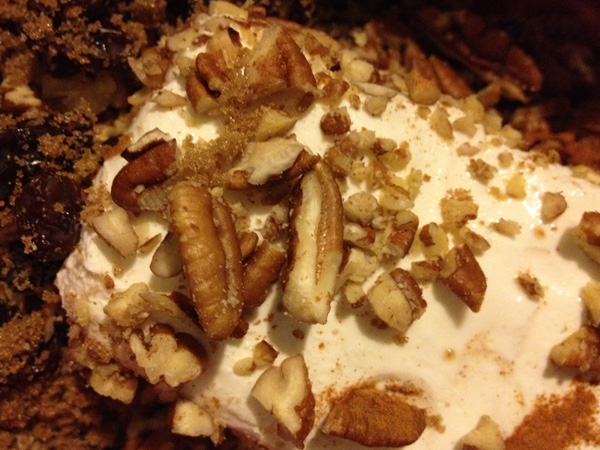 I have a hard time following directions. I think that's why I like to cook and never really tried baking – too precise. Anyway, I read another recipe for the king cake that used cream cheese instead of the flour filling called for in the recipe below. I had know idea if it would work but at this point I was drinking wine and figured, what the hell! It did work as a matter of fact, so I suggest replacing the flour with an 8 oz package of cream cheese.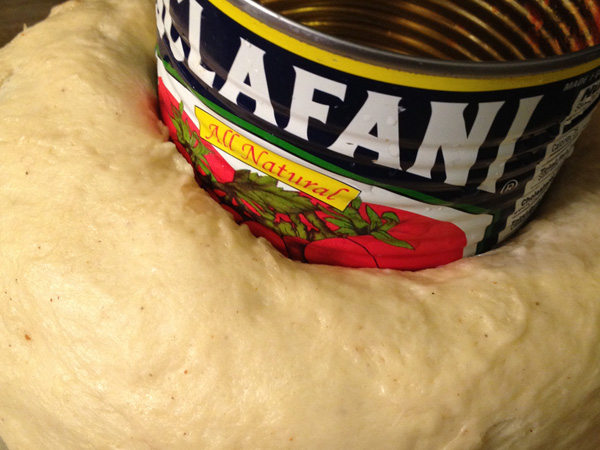 I also read, to keep the circle shape, place a medal can in the center of the dough.  This actually didn't work out so well. The dough stuck and it was hard to get the can out.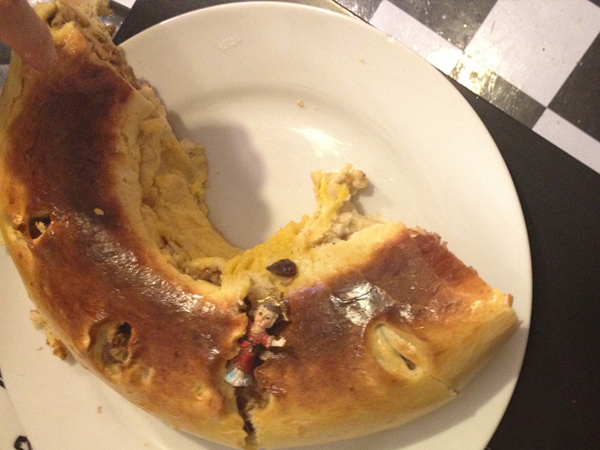 I felt uncomfortable actually cooking Jesus so I decided to gently stuff him in after the cake came out of the oven (not to mention the potential toxins in the plastic). Also, I heard my Mother's voice in my head  "THAT'S SACRILEGIOUS". (And then I heard Homer Simpson saying "MMMM. Sacrilicious!" and got over it.)
We made two cakes, one to taste, to make sure it was good enough to serve and the second bigger one – which is shown above. The other half looked shitty so Matt said to cut it off. I think it had to do with the can in the middle.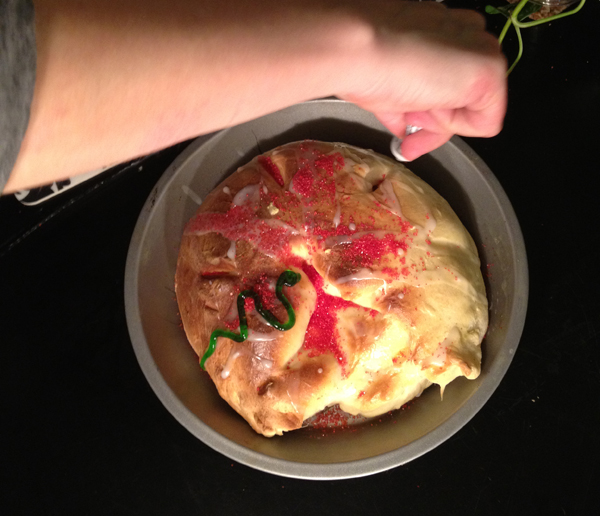 This is the small one which came out really nice so we'll be serving this at our Three Kings party – which also happens to be my birthday party!!
The final stage didn't go totally smooth. The cake buzzer went off but it wasn't brown. I researched online and it seemed like an egg glaze was appropriate. I quickly whisked it up and put the cake back in the oven, phew!  I've noted the addition of the egg mixture in the recipe below.
Overall, the cake tastes fantastic!  I mean, when you put a bunch of cheese, nuts and sugar together what do you expect!
The recipe I used is from allrecipes.com.
Ingredients
PASTRY:
1 cup milk
1/4 cup butter
2 (.25 ounce) packages active dry yeast
2/3 cup warm water (110 degrees F/45 degrees C)
1/2 cup white sugar
2 eggs
1 1/2 teaspoons salt
1/2 teaspoon freshly grated nutmeg
5 1/2 cups all-purpose flour
FILLING:
1 cup packed brown sugar
1 tablespoon ground cinnamon
2/3 cup chopped pecans
1/2 cup all-purpose flour or 8 oz. package of cream cheese
1/2 cup raisins
1/2 cup melted butter
FROSTING:
1 cup confectioners' sugar
1 tablespoon water
Directions
Scald milk, remove from heat and stir in 1/4 cup of butter. Allow mixture to cool to room temperature. In a large bowl, dissolve yeast in the warm water with 1 tablespoon of the white sugar. Let stand until creamy, about 10 minutes.
When yeast mixture is bubbling, add the cooled milk mixture. Whisk in the eggs. Stir in the remaining white sugar, salt and nutmeg. Beat the flour into the milk/egg mixture 1 cup at a time. When the dough has pulled together, turn it out onto a lightly floured surface and knead until smooth and elastic, about 8 to 10 minutes.
Lightly oil a large bowl, place the dough in the bowl and turn to coat with oil. Cover with a damp cloth or plastic wrap and let rise in a warm place until doubled in volume, about 2 hours. When risen, punch down and divide dough in half.
Preheat oven to 375 degrees F (190 degrees C). Grease 2 cookie sheets or line with parchment paper.
To Make Filling: Combine the brown sugar, ground cinnamon, chopped pecans, 1/2 cup flour and 1/2 cup raisins. Pour 1/2 cup melted butter over the cinnamon mixture and mix until crumbly.
Roll dough halves out into large rectangles (approximately 10×16 inches or so). Sprinkle the filling evenly over the dough and roll up each half tightly like a jelly roll, beginning at the wide side. Bring the ends of each roll together to form 2 oval shaped rings. Place each ring on a prepared cookie sheet. With scissors make cuts 1/3 of the way through the rings at 1 inch intervals. Let rise in a warm spot until doubled in size, about 45 minutes.
Bake in preheated oven for 30 minutes. Push the doll into the bottom of the cake. Frost while warm with the confectioners' sugar blended with 1 to 2 tablespoons of water.
Note: For browning, whisk 1 egg and one tablespoon of milk together. Glaze before baking.