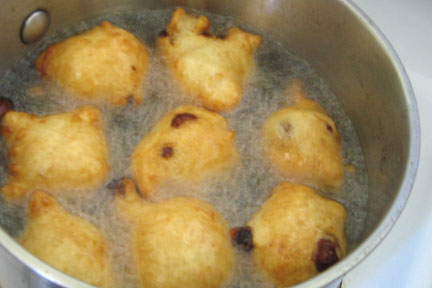 By Franny
There are some years as Christmas approaches when I wish I could go back to the celebrations I had as a child. I especially wish I could transport my own children to show them firsthand what  beautiful, huge, wonderful Christmas Eve and day that we shared with my mother's side of the family in Brooklyn.
I can still see the basement with the table filled with food.  I can hear the loud voices in a cacophony of noise. The smells of the many foods are vivid in my memory. The part of the food that I enjoyed the most were the sfingi- the delectable fried dough that was only made on Christmas eve.
My grandmother was in charge of this food.  Her six daughters had other responsibilities, like meatballs, sausage, lasagna, and assorted other items.  But Grandma mixed the dough in a gigantic metal bowl.  She used her hands a lot, no mixer or processor in her kitchen.
When the dough was thick and  gooey, she would fire up the pot of oil.  Grandma would gently drop four fingers filled with dough into the oil, which gurgled when ready. She would let it bubble and then she took her large metal spoon and scooped them out a few at a time.  She would drop them onto a cotton cloth to drain.  Then, while they were still warm, she would get a strainer filled with powdered sugar and let it dance over the crisp dough balls of sfingi.   I can remember trying to steal the warm sfingi from the cloth.  When her back was turned, I would sneak close to get one or two.  She would always catch me and say something in Italian, which I did not understand, and hit at my hand with the ladle. A few times I would be successful in the theft and it was worth it.  The warm, tasty dough, with just enough sugar to sweeten, was amazing.  I could have eaten all of them, buy there were too many of us for me to do that.  Grandma would stand there for what seemed like hours, until the platter was piled high with the warm sfingi.  Once they went on the the table , they were devoured by the large group of  about 30 people there for the Christmas celebration. The holidays were non-stop eating and laughing and talking and arguing and just plain joy. The sfingis for me, were the best part.  And I knew once that platter emptied, it would be another year before I tasted another sfingi again.
While this recipe is not the exact one, I think it's pretty close. From Allrecipes.com
Christmas Sfingis
Ingredients
1 pound ricotta cheese
2 eggs
2 tablespoons white sugar
1 1/2 teaspoons vanilla extract
1 1/2 tablespoons baking powder
1 cup all-purpose flour
2 quarts vegetable oil for frying
1/4 cup honey
1/4 cup confectioners' sugar for dusting
Directions
In large bowl, combine ricotta, eggs, sugar and vanilla. Mix together baking powder and 1/2 cup flour. Fold into ricotta mixture. Add enough of remaining flour to make a thick batter. Let rest 1 hour.
Heat oil in large heavy saucepan over high heat until a small amount of batter dropped in oil sizzles and starts to color. Drop batter by teaspoons into hot oil and deep fry until golden. Remove with slotted spoon and drain on paper towels.
Stack sfingi on serving platter in a pyramid. Drizzle stack with honey and dust with confectioner's sugar.