[rating: 5]
We met Spicy Mike (Mike Johnson), the charismatic creator of Spicey Mike's Gourmet Ketchup at a harvest festival held at the Six Mile Creek Vineyard in Ithaca, NY. We sampled while Spicey Mike told us his entrepreneurial story… And the health benefits of his zesty creation.
He started without intention, making his ketchup at home on the stove top. He wanted to create a "sauce" that was healthy for his family and had a robust, zinglicious flavor. Mike would occasionally bring his homemade ketchup recipe to work. His co-workers went gaga over it and kept asking for more. The more friends and family demanded his spicy ketchup, the more Johnson made. He started to think there could realistically be a market for his ketchup – so in 1996 he officially started his small time operation. Today Spicey Mike travels the northeast selling his product at festivals and food expos; it's sold throughout New Hampshire in many local deli's and Markets and Spicey Mike's Gourmet Ketchup can be purchased online.
"It wasn't easy" Johnson explained. "The licenses, incorporation, commercial kitchen rentals and most importantly – product production."  With perseverance and his passion for spice, Johnson pushed forward and created 3 varieties: mild, hot and nuclear ketchup.
The Glorified Tomato proudly states that Spicey Mike's Gourmet Ketchup is by far, the best "hot sauce" we've ever tasted. But don't forget, it's ketchup and that's what makes this product so unique.  It has a depth of bold flavor which is magically created with: ketchup tomato concentrate from vine ripened tomatoes, distilled vinegar, salt, onion powder, garlic, hot sauce, pepper, lemon and (secret?) spices – yum!
We've been using it on our eggs in the morning and marinating steaks with it at night. We recommend trying it with chilli, soups, burgers, hot dogs, nachos – gosh so many options!!
"There's tons of garlic in it. If you eat it every day, you won't get sick! Even kids love it. My friend's children put it on all sorts of food, foods they never used to eat before the addition of my ketchup" – Spicy Mike
Check out Spicey Mike's Gourmet Condiments on  facebook!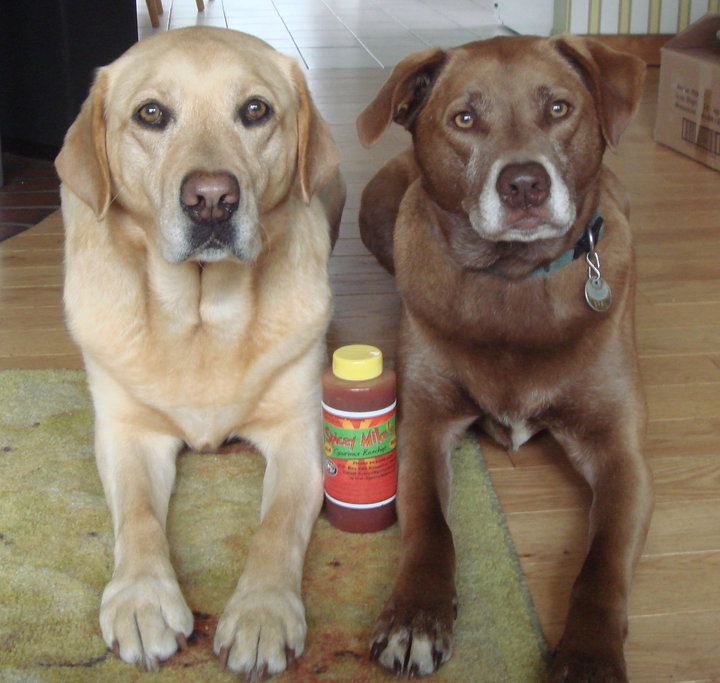 Photo via Spicey Mike's Gourmet Condiments Facebook Page