by Paula D.
on
September 15, 2011 4:10 pm
in
Food
I hit up the Fresh Pond Fair last week and as always, it was killer. Only an extremely "organized" group can pull off an event like this. Unfortunately, the Federazione Italo-Americana di Brooklyn and Queens are faced with opposition from the community board year after year – it causes too much traffic; four days is too long; it's a private event on community property. Blah blah blah….
My take: the sausage and peppers at the Fresh Pond Fair are amazing, which makes me forget about the traffic issues. Seriously, they were amazing in every single way. (Although at eight bucks, it was a little overpriced.) Hot and spicy or sweet and juicy, all variations were there for your eating pleasure.
Not to mention the zeppoles, fried Oreos, knishes, braciole, calzones and last but definitely not least: the Federazione band, featuring Angelo on keys, Sal on synthesizer drums, Joey on the mix and our favorite, Olympio, who was playing Lou Monte licks on the Steve Vai guitar. It had an effect like this: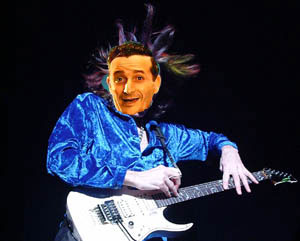 Check out Angelo and Olympio getting loose:
[audio:screaming_drums.mp3|titles=Screaming / Synth drums / Accordion Synth|autostart=yes]
[audio:emotional_moment.mp3|titles=FPF emotional high point]
A  related note: this Sunday is the Myrtle Ave Fair (Fresh Pond Road to  Wyckoff: 12pm – 6pm). It's not as paesan-oriented as The Fresh Pond Fair but worth checking out…