by Paula D.
on
November 11, 2021 11:54 am
in
Food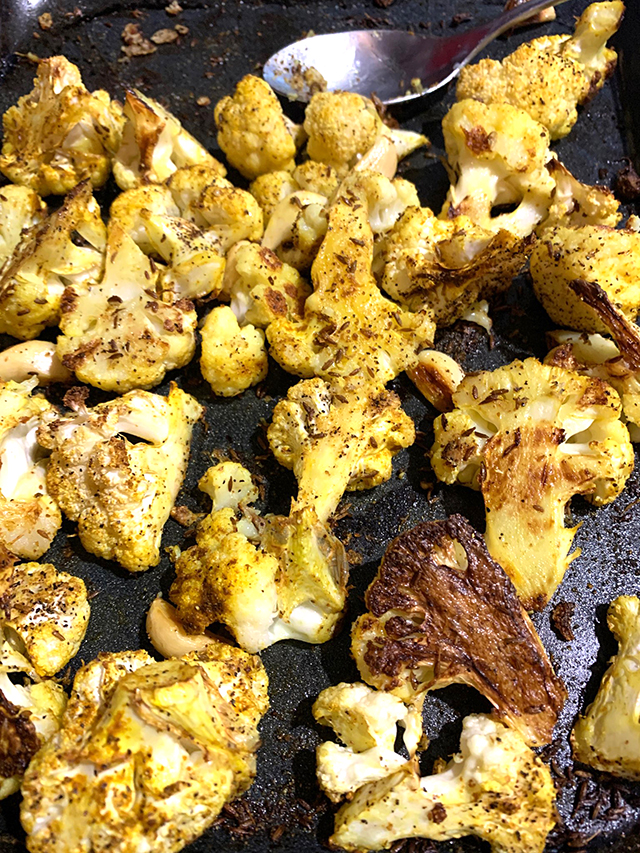 Fall brings soup to our table. Each week during this season and through the winter, I experiment with different types of soup. Making a large batch for the week goes a long way, especially if you have a busy work week. And worst case, you freeze it for another time. I'm essentially vegetarian these days, so  soup packed with vegetables is a fast n' easy delicious meal for me. One pot means less mess too.
And so, this marks my first soup of the season. I wanted a recipe with "heat" to warm me up. I was also looking for something healthy and low fat. I did a little online search and found a charred cauliflower recipe from foodandwine.com. It looked like a great starting point. As per usual, I ended up adapting it. I'm of the mind "make it your own." Following recipes note for note is boring for me!
Normally when food has a lack of flavor you think… "Well, that's not good". But I see bland foods like cauliflower as a blank canvas. They can be flavored in so many ways which makes this vegetable and others like it versatile.
If you like Indian food, you want to give this spicy soup recipe a try. I was very pleased with the outcome. The flavor is rich with warm tastes of cumin and curry. The cauliflower acts as a thick base, which along with the coconut milk, makes for a satisfying and hearty soup. Yet it's a deceivingly healthy meal. Blending is key for the cream texture. I suggest not skipping that step. Cheers to soup season!
Ingredients:
1 medium head of cauliflower cut into florets
1 tablespoon cumin seeds
1 tablespoon curry powder (or more to taste)
1 tablespoon cumin powder (or more to taste)
1 tablespoon hot pepper flakes
1/4 cup sunflower or grapeseed oil
Kosher salt and freshly ground pepper to taste
1 medium onion, diced (1 cup)
3 tablespoons unsalted butter
1 bay leaf
2 cups water
13.5 oz can of coconut milk
Directions:
Step 1: Preheat the oven to 375. On a large baking sheet, toss the cauliflower with the cumin seeds, curry powder and about 3 tablespoons of oil. Season with salt and pepper and roast for 25 minutes, turning once until the cauliflower is crispy and golden. Set the tray aside, do not wash.
Step 2: In a medium pot, heat the remaining oil. Add the diced onion and cook over a medium heat, stirring occasionally until translucent – about 5 minutes. Add the roasted cauliflower, butter, bay leaf. Pour some water into the baking pan to get the seasoning loose from the tray. Add the seasoned water into the pot. Add the remainder of water. Bring to a simmer. Cook over moderate heat until the liquid is reduced and the cauliflower is soft – about 15 minutes. Take out the bay leaf and discard.
Step 3: In a blender or food processor, puree the soup in batches until smooth. Return the soup to the pot and stir in the coconut milk. Rewarm over a medium heat. Add more water for a thinner consistency if desired. Season the soup with more curry, cummin, salt and pepper. Add in the hot pepper for heat! Serve hot.
Follow Paula for the day-to-day on IG @theglorifiedtomato