by Paula D.
on
January 25, 2021 10:56 am
in
Recipes
On New Year's Eve I made a decadent tray of ziti. I put the cheesy videos on Instagram stories. Several people messaged me asking for the recipe. I gave them some quick pointers because I don't have a recipe written down.
To elaborate, I want to share my secrets to a delicious ziti here. And I'll say, it's more about these tips than it is about following a recipe to the measurement.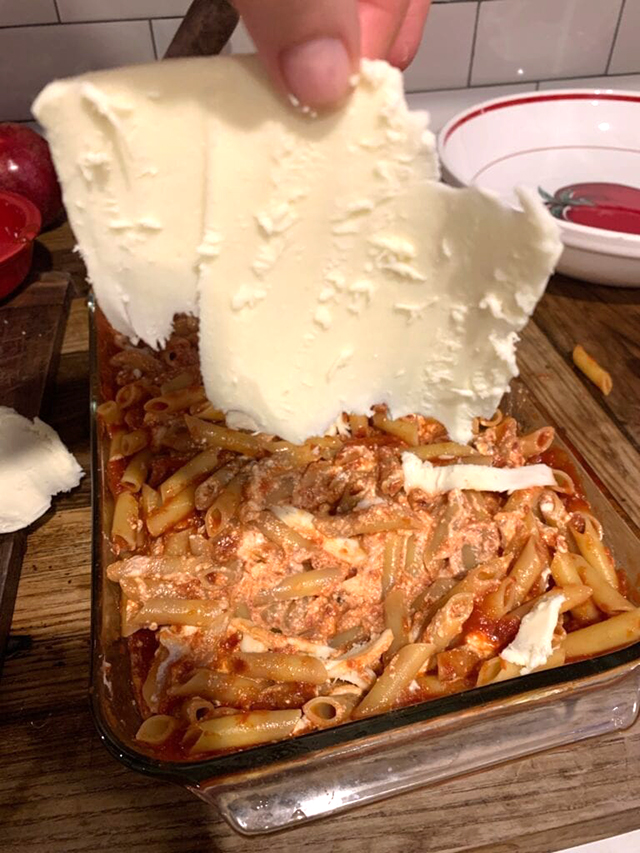 The Sauce: It's easy to make a good sauce if you throw a piece of pork or sausage in the pot. The true skill comes with traditional vegetarian marinara. Colavita extra virgin olive oil is one of my secrets. Start the garlic and onions in that (and use a lot of everything). Make sure the pot is hot first (2-3 min.) Many home cooks forget that starting off with a high temperature is key to prevent sticking and burning.
I like a little texture in my sauce – I use two diced cans of Sclafani and two puree.
It's all about the spices – fresh sprigs are preferred but use what you have especially now in the winter.  Here's what I do – salt, black pepper, red pepper, oregano, basil, thyme. If I have it in, I'll add capers (and use less salt). I add red wine and/or sugar to taste. Some form of sugar is important to cut the bitterness. I add lots of Pecorino Romano. The block of cheese somehow tastes better than the pre-grated. And this is my big secret – black cured Moroccan olives. It gives the sauce meaty richness.
The Pasta: Al dente! The ziti must be a little hard because it still has to cook in the oven. A common mistake is over cooking pasta and it becomes too mushy, breaking apart in the tray. Always salt the water.
The Cheese: Use plenty of cheese and never use part-skim. You're making ziti – it's not a low calorie meal, so just go for it. For one tray (1 pound pasta) I use one 16 oz. Polly-O mozzarella. I put chunks of mozzarella mixed in with the pasta and sauce and  layer the rest on top. For the top layer, cut the cheese thin and add many layers overlapping. Also add, three heaping scoops of Polly-O ricotta. And again … a bunch of Pecorino Romano. Make sure the mixture of cheese/ pasta / sauce is very fluid. The pasta will absorb this mixture and if you don't use enough of everything, it will dry out.
The Oven: Don't overcook the tray. My oven, which is a convection, gets very hot, fast. I cook the tray of ziti for 30min covered with tin foil. Take off the foil for the last 5 min. to get a little crispness on the edges. If you're unsure of the time, just open the oven and take a peek at the cheese. It should be melted and bubbling only a little bit.
Serve: I mention  "don't overcook" because when you take the tray out of the oven, the pasta and cheese is still cooking. Wait 5 minutes before serving. Drizzle additional olive oil on the top of the ziti before bringing it to table. So important – always have extra sauce and Pecorino when serving.
Follow me on Instagram for the day-to-day in the kitchen – @theglorifiedtomato