by Paula D.
on
December 31, 2020 12:40 pm
in
Food
So many Rockawayites have connections to Puerto Rico. "Am I the only person on the whole peninsula that hasn't been?" I thought. I don't suffer FOMO well, so back when things were pretty calm with Covid-19, we booked a trip, and I ended up spending my first Thanksgiving in a bathing suit drinking a pina colada, which, incidentally, is the national drink of PR.
With the current Covid uptick, I did have second thoughts about the trip, but sitting on the beach in the open air seems much safer than sitting indoors around a Thanksgiving table. Definitely safer for my mental health. And we were tested beforehand and afterwards, and followed the guidelines in between. (They are very serious about masks in PR, incidentally.)
We flew into San Juan and stayed one night in the old part of the city, which was unbelievably picturesque. I wish we had more time there. The city has so much to offer in the way of history and beauty. Next time I may spend a week just exploring the capital.
Our Airbnb was a five minute drive from the center of Rincón. What I noticed most about the rural areas was the random animals – dogs, cats, cows, horses, chickens, roosters and the coquí frogs (heard, not seen). Between the frogs and the roosters, the mornings were very "musical." As I layed in bed awake at 5am, I had the thought that to the locals, these sounds must blend in, just how the planes in Rockaway don't even phase us.
The food… delicious. The prices weren't cheap but not tourist expensive, fair. The highlight was mofongo! This was my first time eating Puerto Rico's famous dish. Mofongo is pickled green fried plantains topped with chicken or fish usually, and pickled onions or cracked pork. We ordered mofongo at fancy restaurants and at beach side shacks. The best we thought was served at El Ancla, a little beach side place at the marina right outside the main town in Rincón. It started raining as it does randomly in Puerto Rico and we took cover there, not expecting a decadent comfort food experience.
Also to note is the fresh fish in general. I think I ate fish everyday. Not sure if it's that most everything is caught the day of, or it's the Caribbean waters but the fish is fantastic in PR.
Of course we had to check out Uma's Playa Jobos (Isabela 00662, Puerto Rico). The first time I tagged Conrad on instagram (@umas_restaurants) and said "Oh hi, we're here!" He wasn't around. We ended up in Isabela again. Conrad Karl and his wife Umida (Chef and co-owner) treated us wonderfully. Stiff drinks, great conversation and a special-made coffee by Conrad himself. The coffee he uses is made from beans grown in the center of Puerto Rico. A seriously delicious cup. Besides the fanatic food and hospitality, the beach vibe at Umas is sooooo chill.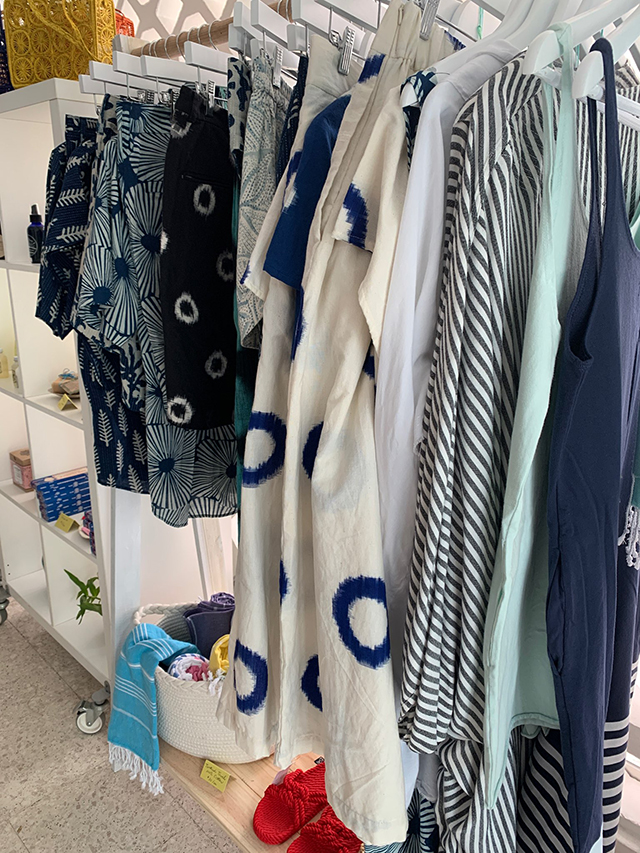 Some shops were closed due to Covid, but I have to mention my friend Meredith's new boutique in Rincón is open and ready for business! You may know the brand from pop-ups on the boardwalk – Del La Mer (@delamer1981). We visited the shop a few times during our stay. I played dress up in her beautiful designer clothing, so much fun and I treated myself to a beachy jumper!! Del La Mer also carries other familiar brands – Goldie's Soap and items from The Swellife. If you're "snow-birding" to Rincón after the holiday be sure to check out the shop and support local business from afar! Del La Mer is located at Carretera 115, KM 14.1 Bo. Ensenada Rincón.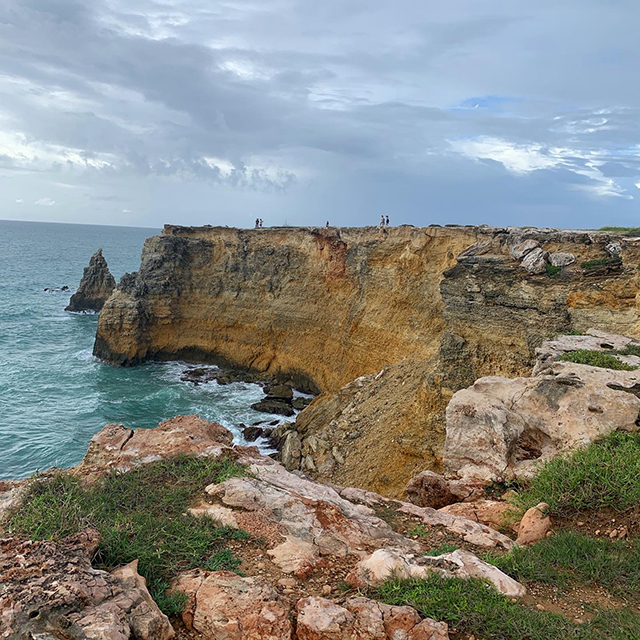 Lastly, I have to mention the natural geographic diversity on the island. There are beautiful beaches with aqua blue waters, mountainous rainforest with waterfalls, one being Gozalandia Falls and other-world white limestone rock formations and red sharp cliffs 200 feet above the sea at Cabo Rojo Lighthouse. I couldn't tell you which is more breathtaking. I had know idea the landscape in PR was so diverse. I love being outside in nature, I could explore the natural world of Puerto Rico indefinitely.
There's so much more I want to share but I will have to leave it at that for now!