by Paula D.
on
August 14, 2018 8:18 am
in
Drinks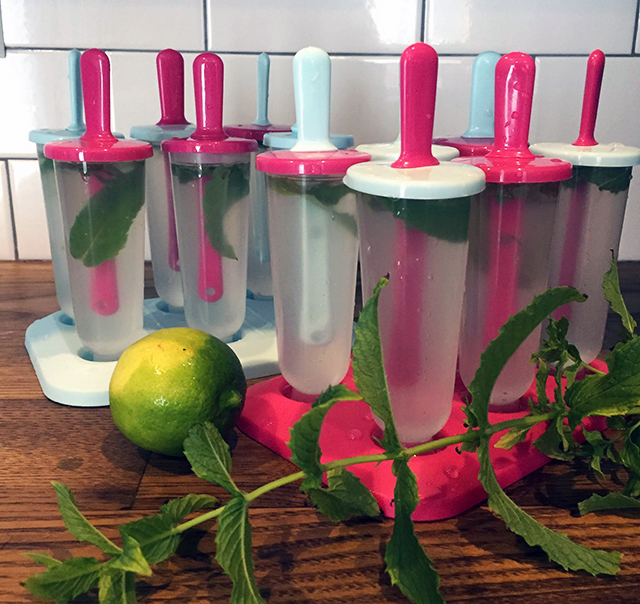 It's been so hot and humid. The other day I wanted an ice pop so bad but I knew I didn't have any. Instead, I pathetically stuck my head in the freezer for a minute to cool down.
I remember as kids, my sisters and I would make icy pops at the kitchen table. It gave us something to do and we would anticipate enjoying the cooling treat after the long summer day  playing outside. My mother gave us those small bathroom cups to make our ices with and she pulled out the popsticks from our craft bin. We used orange and cranberry juice for the flavors. If my mother had fruit in the fridge, she would cut it up and we'd include that into our ice pop creations. I remember one time my sister Maria grabbed the Coca-Cola out of the fridge without my mother seeing. We made soda ice pops and also… orange juice Coca-Cola ice pops. That sounds so gross to me now but I remember liking it back then, and the overloaded sugar rush.
I decide this week to make mojito ice pops since I had so much mint growing in the garden and it's been so hot and… I love booze!
I would've used paper cups as a salute to my childhood popsicle-making days but I didn't have plastic or paper cups in the house. I thought the ice cube tray technique would be too small and messy for an adult pop. I opted to buy the ice pop molds they sell everywhere these days. They're reusable unlike the paper and plastic cups and I'm definitely planning on experimenting, making a variety of grown-up ice pops during the hot month of August.
I looked for a good recipe online and came across one from realhousemoms.com. I figure, moms make pops with their kids all the time and moms need boozy pops to deal with their kids so this would be a trusted source for the recipe.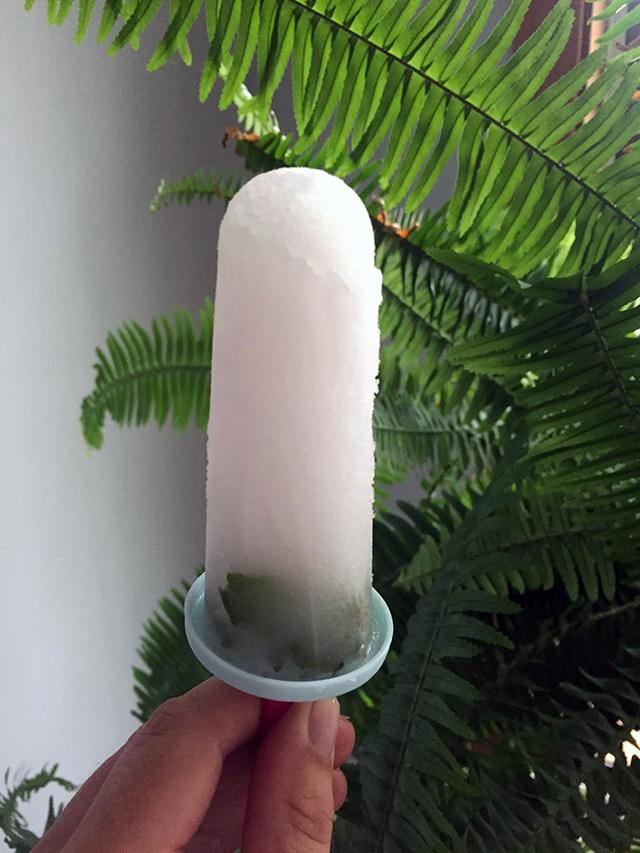 Mojito Ice Pops
Ingredients
(Makes about 12 pops depending on your ice pop mold)
2 1/2 cups water
1 cup sugar
20 mint leaves plus more for garnish
1/4 cup lime juice
1/2 cup white rum (Use the delicious Owneys brand, Rockaway native, Bridget Firtle's rum!)
Instructions
1. In a small saucepan, heat sugar and water to a boil. Remove from heat and stir in the mint leaves. Cover and let steep until mint syrup is cool.
2. In a bowl combine mint syrup, lime juice and rum. Pour mixture into popsicle molds, adding mint leaves into each one for a pretty pinterest-y effect. Freeze for at least 4 hours.
This was surprising really fast and easy to prepare, it took only 20 min. The pops taste great, zesty minty and boozy. Alcohol doesn't freeze. The pops are solid but melt fast. No worries though, just "chug the pop" and grab another!