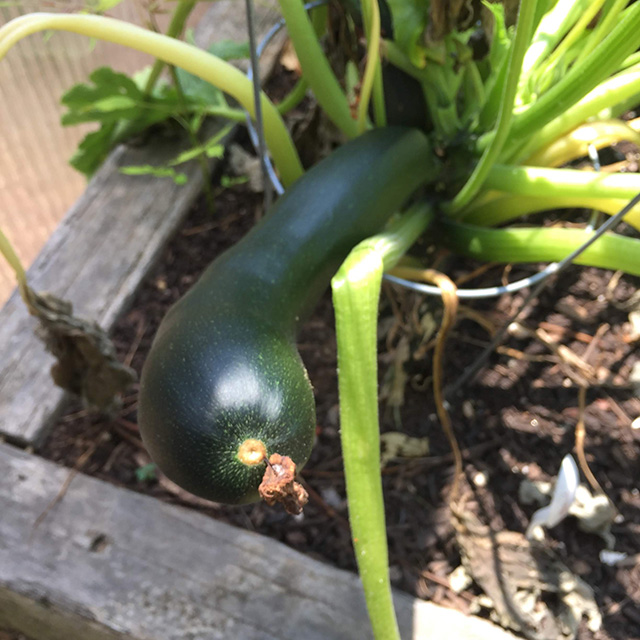 I've never had much luck with zucchini but this year, the squash gods granted me bounty. I said to myself as I peered down over the plant, "Wow, they look like real zucchinis."

Have you ever seen the plant? The vegetables grow outwards on an angle. They seem to defy gravity. The fruit is bulky yet the large yellow flowers are so delicate. I recently learned from Pam, the Market Manager of Edgemere Farm that there are male and female flowers. Female zucchini blossoms are directly attached to the fruit. Male blossoms are attached to a long stem. It's a wonderful Italian treat to eat fried, ricotta-stuffed squash blossoms. You can eat both male and female, just remove the piston or stamen.
Continuing to marvel over my zucchinis, I noticed life living upon its leaves. There was a green grasshopper, and then a flat blackish, matte beetle thing. I googled the insect and learned it's in the Coreidae family, it was a Squash Bug. I also noticed baby squash bug eggs. These suckers will kill your plant, yellowing and wilting the leaves. The damage occurs when the bug injects a toxin into the plant while sucking out the plant sap. I learned early detection is key to controlling the pest because the adults are hard to kill. They overwinter under leaves so don't put the damaged zucchini plant into your compost. The best way to combat the bug is by wiping the eggs off with a damp paper towel that has a bit of dish soap on it. Luckily, I only saw two egg clusters on my plant. I felt a little bad removing the eggs… because aren't we all just trying to survive? Also they were laid so perfectly and they're deep orange and shiny, very pretty actually.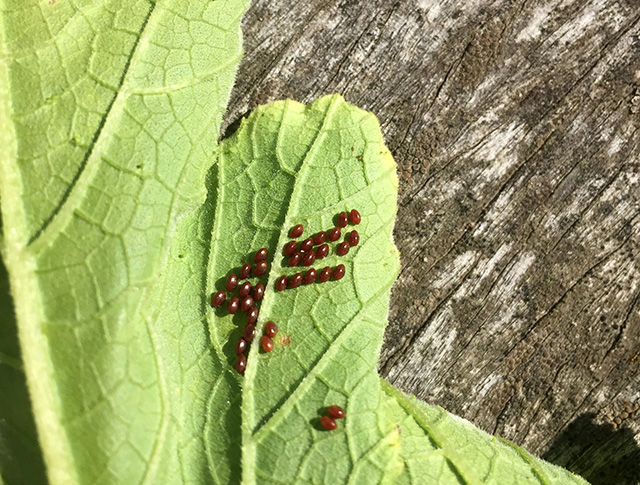 I posted a picture on my instagram of my zucchinis and asked. "What should I make with my precious harvest?"  Some people suggested zucchini fritters others said zucchini linguine, otherwise known as zoodles. I've been meaning to make zoodles, a healthy pasta alternative with my never-been-used Spiralizer my friend Melissa gave me. Decision made.
I decided to dress my zucchini linguine in a classic garlic and oil sauce with fresh tomatoes, basil and a dash of romano cheese. It was simple but bursting with the rich flavor of seasoned, organic tomatoes. My husband barely left me a mouthful for dinner!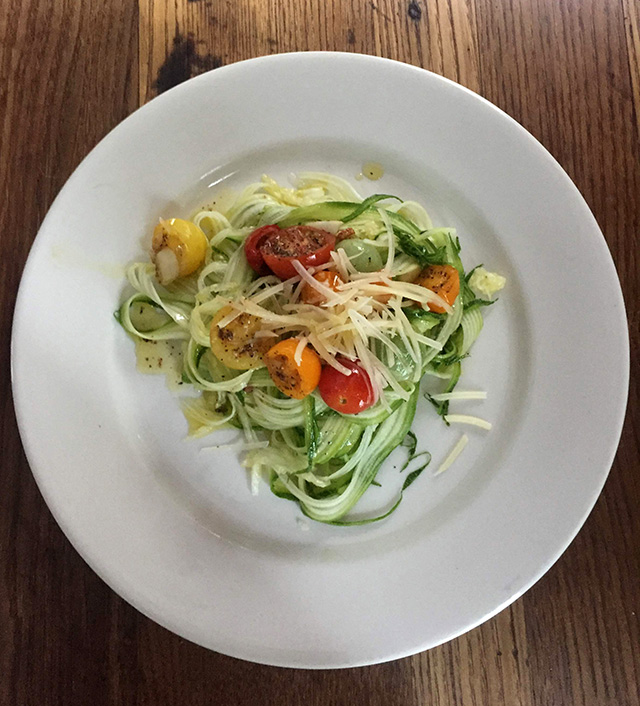 Zucchini Linguine Aglio Olio
Ingredients (serves 2):
2 zucchinis
2 handfuls of grape tomatoes – from the garden or organic will taste best
4 cloves garlic
A healthy pour of extra virgin olive oil
Basil, salt and pepper to taste
3-4 tablespoons romano cheese
Directions:
Make your zoodles with a Spiralizer. There are many types, so follow the directions for your specific model.
Spiralizer the zoodles directly onto the serving plate
In a small skillet, heat on low the extra virgin olive oil (I swear by colavita oil)
Half the grape tomatoes and dice the garlic. Add those ingredients to the oil.
Add salt and pepper, letting it simmer for about 5 min. When the garlic begins to lightly brown, remove and let the mixture sit for 2 min.
Pour the oil/tomato mixture over the zucchini linguine. Top with the romano cheese and  chopped basil. Serve right away.