by Paula D.
on
June 1, 2018 8:51 am
in
Food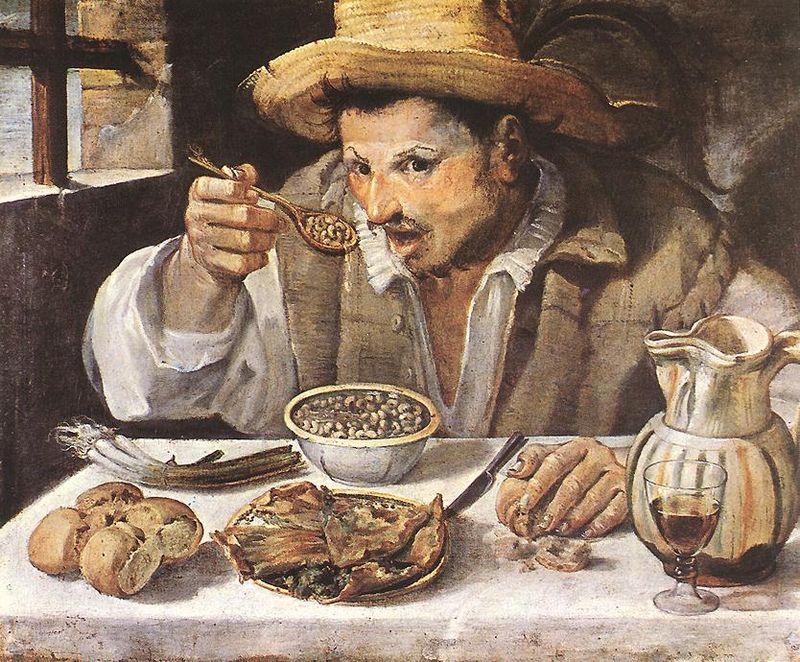 I spent some time this past week tackling a big clean out of the basement, which, up until that point, was a very dusty 30x60ft storage space. How does one collect so much stuff?  The plan is to transform the basement into guest quarters, for friends and family that visit this summer.
I was sifting through some boxes and came across one labeled books – containing mostly my art history books from college. Distracted and tired from organizing, I started flipping through. A work by Italian Baroque painter Annibale Carracci titled "The Beaneater" or Mangiafagioli in Italian, dated 1590, caught my attention.
The painting is a snapshot, just seconds before a man is about to eat his simple meal of beans and onions. Those foods and others that grow in or close to the ground were in Carracci's time considered only suitable for low society – the peasants. It was thought that if a peasant ate foods grown high above the ground (intended for high society – the aristocrats) they would fall terrible ill.
The association continued. In the late 19th century, when poor Italian immigrants came to New York in hopes of living the American dream, beans were still known as "the poor man's food" or "immigrant's food" along with other cheap foods or foraged foods. Luckily, my people were gifted with the innate ability to cook anything superbly. So creating delicious meals using beans as the main ingredient was an easy feat.
After my tiresome day of peasant work in the basement I thought it only appropriate to pay homage to "The Beaneater"* – so for dinner I made  a simple meal from beans. I found this italian style tangy bean dip recipe from CountryLiving.com and used it as a starting point putting my own spin on it.
The original recipe suggests serving on pita triangles – that would be tasty I imagine but I decided to fill tomatoes with the mixture. Less carbs and it looks pretty adorable. Enjoy!
The Beaneaters Dip
INGREDIENTS:
2 cups cannellini beans
3 large cloves garlic
1/4 cup fresh lemon juice
1/4 cup extra-virgin olive oil
1 oz. fresh chopped basil
1/4 cup or more of Romano cheese
Medium to small tomatoes and/or pita bread
Salt to taste
DIRECTIONS:
Puree all ingredients together in a food processor.
Let the mixture stand for at least 1 hour. It with thicken.
Serve stuffed inside tomatoes or with pita triangles.
Serving in tomatoes: Cut the top 1/4 portion of the tomato off. Gently scoop the inside of the tomato with a knife and spoon. Don't clean it out completely. Fill the tomato with the bean mixture. Eat.
*Annoyingly off-topic, my husband had to point out that there was a 19th century baseball team called the Boston Beaneaters, who eventually became the Atlanta Braves. They're the oldest continuously-playing team in North American sports.